A former friend of Ezra Miller, the headline-making star of The Flash, said in a new interview that the actor had opened up about "a lot of trauma" they experienced in Hollywood.
A new report from Vanity Fair detailed the "complex mental health issues" that Miller—who is non-binary and uses they/them pronouns—said they were going through following several incidents involving the law over the past few years. Many sources in the article commented on the actor's well-being and their personal experiences with them.
One source, who was referred to in the report only as Kaelyn, allegedly met Miller in Hawaii earlier this year.
The actor, 29, was arrested and charged with disorderly conduct and harassment in a bar in Hawaii in March, and in April, was arrested again by the Hawaii Police Department for second-degree assault after allegedly launching a chair at a 26-year-old woman, hitting her on the head.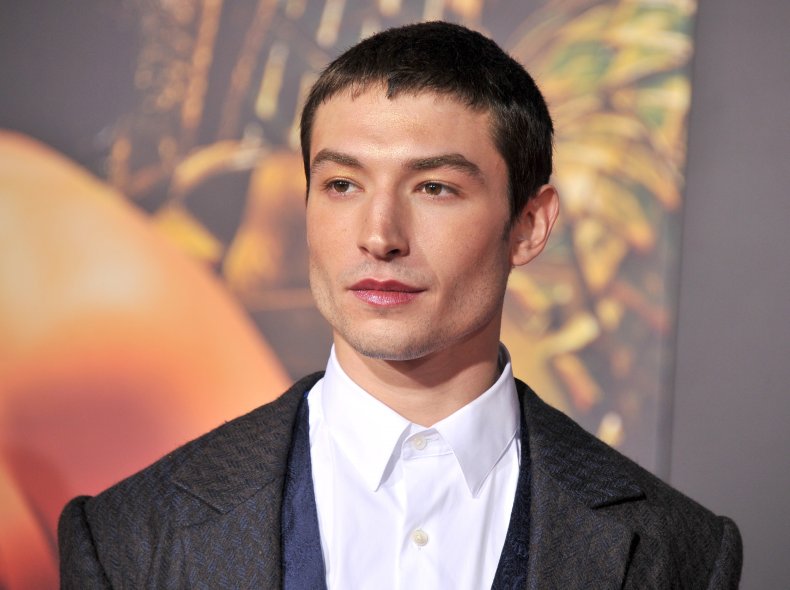 The report said that the actor befriended Kaelyn's husband, who chose not to be named. Kaelyn, according to Vanity Fair, was one of four of the man's partners, as they were in a polygamous relationship. The family lives in Hawaii and reportedly runs a small booth at a farmer's market.
Miller was also in Hawaii with the activist Tokata Iron Eyes, who now goes by the name Gibson, whose parents have accused the actor of grooming. They have also filed a restraining order against Miller. Both Miller and Gibson, now 18, reportedly stayed with the man, his wives and their four children in March.
Miller "expressed that they had experienced a lot of trauma and weird s**t in the Hollywood scene," Kaelyn told Vanity Fair. "And we were like, 'Hell yeah, we'll help you out.'"
In 2018, Miller opened up briefly about the treatment they faced in Hollywood. They told The Hollywood Reporter that they were offered alcohol while underage in an attempt to recruit them for movies. They also told Playboy the same year, "I've survived abuse for sure, for sure, in a lot of capacities, starting from a pretty young age."
Kaelyn said the actor returned to the couple's house at one point with toys for the kids. "He bought Nerf guns for our children and was mansplaining about guns," Kaelyn said of the actor. The report further detailed that Miller had several guns scattered around his large home in Vermont, which is an open-carry state. The police reportedly found styrofoam Nerf bullets in the actor's pocket when they were arrested in March.
Among their recent legal issues, Miller has been suspected by police of hiding the whereabouts of a mother and her three children at his Vermont property in August. The Vanity Fair report said the woman, Ana, was one of the man's other wives.
Despite the investigation and multiple other run-ins with the law, Miller expressed that they want to heal and move forward, apologizing for their recent behavior.
"Having recently gone through a time of intense crisis, I now understand that I am suffering complex mental health issues and have begun ongoing treatment," Miller said in a statement to Variety in August. "I want to apologize to everyone that I have alarmed and upset with my past behavior. I am committed to doing the necessary work to get back to a healthy, safe and productive stage in my life."
Newsweek reached out to a representative for Miller for comment.