Ukraine troops have allegedly trapped Russian forces against the Dnipro River amid their counteroffensive to take back occupied territory in the south, according to a Ukrainian official.
Russian President Vladimir Putin launched his "special military operation" on the Eastern European country on February 24, hoping he would see a fast victory. However, Ukraine responded with a stronger-than-expected defense, which has prevented Putin's troops from achieving any substantial goals in the nearly seven months of conflict.
In recent weeks, Ukraine's successes have allowed them to launch their own counteroffensives to take back formerly occupied territory in the south and eastern regions of the country. A counteroffensive near Kharkiv, Ukraine's second largest city, appeared to catch Russia by surprise, forcing them to retreat from key cities such as Izium.
A second counteroffensive in Kherson—a southern city strategically located near Crimea, the territory Russia annexed in 2014—has seen slower progress since it began in August. Russia and Ukraine continue to battle for control of the area, with British intelligence indicating Moscow is now ramping up attacks against civilian infrastructure amid losses.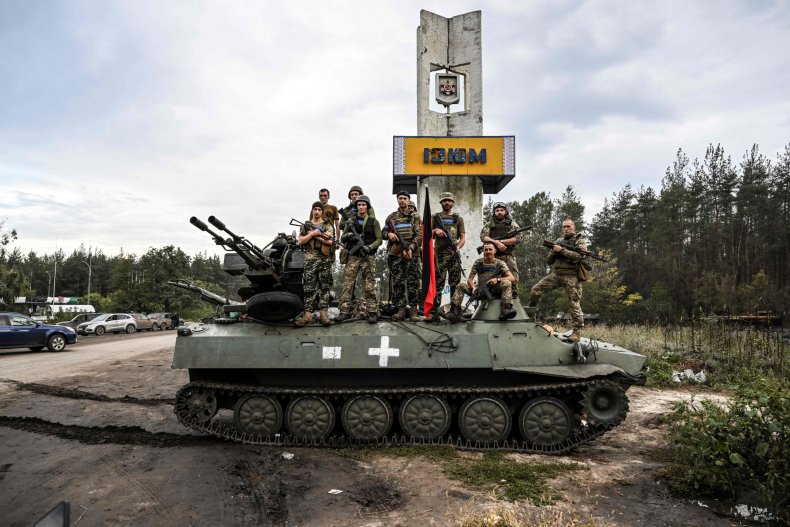 However, some Russian troops have now found themselves "sandwiched" between Ukrainian forces and the Dnipro River, Nataliya Humenyuk, who serves as the head of the joint press center of Ukrainian Defense Forces of the South, said during an appearance on the Ukrainian parliament's television channel on Monday.
"The fire control that we maintain over crossings and transport arteries across the Dnipro makes them understand that they are sandwiched between the defense forces and the right bank—units that are in this part of the Kherson region," she said, according to The New Voice of Ukraine.
She added that Russian troops were offered a way out "under the auspices of international humanitarian law" or were given the chance to return to their home.
Humenyuk also said she received information that Russian troops were demoralized and that some don't see any need to stay trapped between Ukrainian troops at the Dnipro River, according to The New Voice of Ukraine.
Russian Losses Continue Amid Ukrainian Counteroffensives
Humenyuk's remarks come just one day after the British Ministry of Defence said Russia, facing mounting setbacks, has increased its targeting of civilian infrastructure including strikes against Ukraine's electricity grid "in an attempt to directly undermine the morale of the Ukrainian people and government."
The Kremlin has also continued targeting Ukrainian power plants in recent days. The Ukrainian military on Monday released video showing the exact moment when a Russian missile exploded about 900 feet from the Pivdennoukrainsk Nuclear Power Plant. The attack came amid already existing fears that Russian attacks on nuclear plants could lead to nuclear disaster in Ukraine.
Newsweek reached out to the Russian Ministry of Defense for comment.