With Donald Trump continuing to face legal issues across a number of investigations, his on-off ally Ron DeSantis may also be facing legal scrutiny.
The Republican Florida governor has been criticized by opponents and praised by supporters for a stunt in which around 50 migrants from Venezuela were sent from Texas to the affluent Martha's Vineyard area of Massachusetts.
DeSantis said the move was intended to highlight liberal and left-wing hypocrisy for criticizing Republicans who want to clamp down on illegal migration, while not personally dealing with the issue themselves.
Democratic California governor Gavin Newsom called on DeSantis, who is alleged to have sent the migrants to Martha's Vineyard under false pretenses, to face investigation for "kidnapping."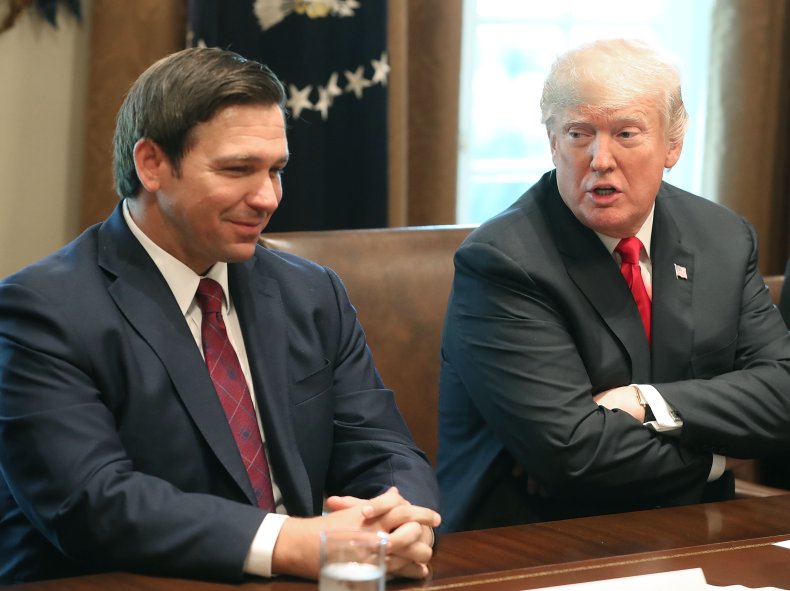 The Claim
Following the controversy surrounding the migrants arriving at Martha's Vineyard, a number of social media users suggested that now Trump and DeSantis—seen as the two main frontrunners for the GOP presidential candidacy in 2024—are both under criminal investigation.
"So now both Republican frontrunners for POTUS in 2024 are under criminal investigation, Trump for a veritable crime spree and DeSantis for fraud and kidnapping migrants," tweeted linguist and lawyer Paula Chertok.
Florida-based attorney Aaron Parnas added: "It's official: The Republican Party's top two 2024 Presidential candidates, Donald Trump and Ron DeSantis, are now under criminal investigation."
His tweet gathered more than 75,000 interactions as of Tuesday, including 64,300 likes.
The Facts
On Monday, the Bexar County Sheriff's Office in Texas announced that it had launched an investigation into the incident involving the migrants taken from the state to Martha's Vineyard.
In a statement, the sheriff's office said it is looking into claims the Venezuelans were "lured from the Migrant Resource Center" in Bexar County and then flown to Florida, before being "ultimately left to fend for themselves" in Martha's Vineyard.
"Additionally, we are working with private attorneys who are representing the victims, as well as advocacy organizations regarding this incident," the department added. "We are also preparing to work with any federal agencies that have concurrent jurisdiction, should the need arise."
In a press conference, Bexar County Judge Nelson Wolff said if the migrants were taken to Martha's Vineyard under false pretenses then that would be considered a crime.
"If you think about what smugglers do, it's not much different," Wolff said.
The judge added that it is unclear if those who recruited the migrants to board the planes from Texas were directly connected to DeSantis, but "if it turns out things were done wrong, he could be held responsible. He instigated it."
DeSantis has insisted that the migrants boarded the planes voluntarily, telling Fox News all had "signed consent forms" to go and were provided with a "packet that had a map of Martha's Vineyard" and phone number for immigration and refugee services.
The governor said his administration had sent officials to Texas to identify migrants who were planning to travel to Florida, and then offer them sanctuary elsewhere.
The money to fly the migrants was taken out of Florida's state budget, $12 million of which was allocated to "facilitate the transport of unauthorized aliens out of Florida."
Trump is also facing possible criminal charges in a number of investigations.
These include inquiries related to January 6 and attempts to overturn the 2020 Election, to allegations the former president mishandled classified documents seized from his Mar-a-Lago resort, then attempted to obstruct federal agents' attempt to retrieve them.
However, although the former president has hired Evan Corcoran, a lawyer representing Silverman, Thompson, Slutkin & White, and specializing in civil litigation and white-collar criminal defense, no criminal charges have yet been brought against him.
The Ruling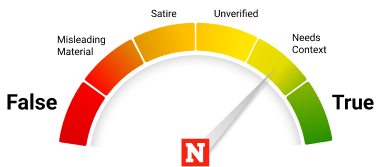 Needs Context.
While Bexar County Sheriff's Office announced that it had opened an investigation into the incident involving migrants being sent to Martha's Vineyard, DeSantis has not yet been officially named in the still-early probe.
It is still to be determined if any crime has been committed.
While Trump is facing a number of criminal and civil investigations, and certainly features heavily in them, the former president has still yet to be indicted or charged in any case.
FACT CHECK BY NEWSWEEK