Russia's "blackmail" referendums in the occupied Ukrainian territory signal Russian President Vladimir Putin's "fear of defeat," Ukrainian official Andrii Yermak recently said.
Russian-installed officials in several occupied territories announced Tuesday that they planned to hold referendums to join Russia. Donetsk and Luhansk are set to hold the referendums from September 23 to 27.
Kherson, the location of one of Ukraine's ongoing counteroffensives, and Zaporizhzhia, home to Europe's largest nuclear power plant that has faced Russian shelling throughout the conflict, are also set to hold referendums, according to the Associated Press.
Yermak, the head of the office of the president of Ukraine, said on Monday the referendums are a sign that the Kremlin is becoming increasingly concerned they could face defeat against Ukraine, despite having one of the largest militaries in the world.
"Naive blackmail with threats and horror stories of 'referendums', 'mobilizations' from those who know how to fight only with children and peaceful people," Yermak wrote in a translated Telegram post. "This is what the fear of defeat looks like. The enemy is afraid, primitively manipulates."
He pledged that "Ukraine will solve the Russia issue," which can be "eliminated only by force."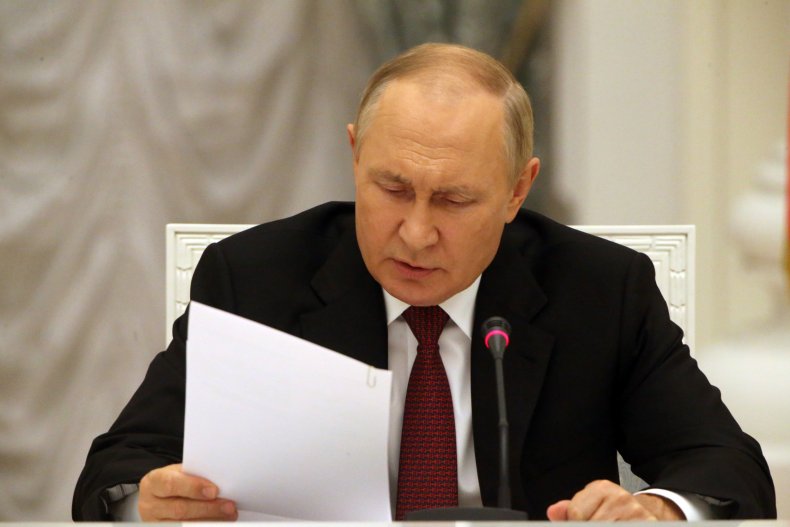 Former Russian President Dmitry Medvedev, who serves as the deputy chairman of Russia's Security Council, wrote in a Telegram post that the referendums would protect citizens in eastern Ukraine due to Russia's expanded military operation.
"Encroachment on the territory of Russia is a crime, the commission of which allows you to use all the forces of self-defense," he wrote. "But it is no less important that after the amendments to the constitution of our state, not a single future leader of Russia, not a single official will be able to reverse these decisions."
Russian forces invaded Ukraine on February 24, 2022. At first, Putin said the "special military operation" was intended to "liberate" the Donbas region—which includes Donetsk and Luhansk, two eastern Ukrainian regions controlled by separatists—as well as to prevent Ukraine from growing closer to the West and joining NATO, which Putin sees as one of Russia's top adversaries.
However, after nearly seven months of fighting, Russia has failed to achieve substantial gains against Ukraine. Kyiv responded with a stronger-than-expected defense bolstered by Western military aid, and in recent weeks launched counteroffensives to reclaim occupied territory in the south and east.
Ukraine's successes mean Russia is facing mounting defeats, with Russian forces retreating from key cities such as Izyum. Russia has also dealt with issues within its own military, including recruitment issues and a lack of motivation among its forces.
Newsweek has reached out to the Russian Ministry of Foreign Affairs for comment.