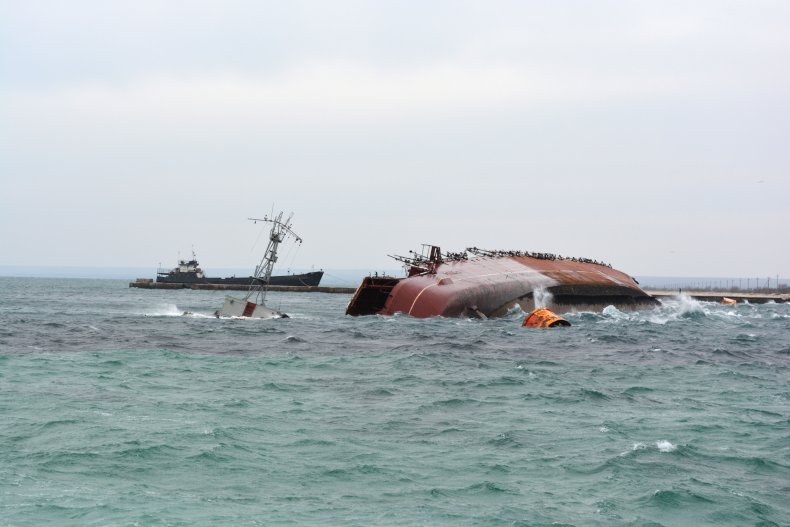 The Ukrainian military says that it destroyed a Russian barge carrying weapons, military equipment and troops in an embattled area of the Dnipro River.
Ukraine's Operational Command South said in a Facebook post on Monday that a Russian barge attempting to move the troops and supplies across the river near the city of Nova Kakhovka had joined a growing Russian "underwater fleet" after being hit in a Ukrainian attack.
Russian forces have been attempting to ferry weapons and equipment across the river due to multiple bridges, ammunition depots and bases being previously destroyed amid Ukraine's large and ongoing southern counteroffensive.
"Attempts to set up an alternative ferry through the Dnipro, in the area of Nova Kakhovka and Kozatsky, were not successful," Operational Command South said. "The ferry failed to withstand fire control and stopped. A barge loaded with weapons, equipment and personnel, after being hit by fire, replenished the occupiers' underwater fleet."
The reported sinking of the barge comes on the same day that a Ukrainian official claimed Russian forces had been trapped by the river due to the counteroffensive in the Kherson region, pushing them further south.
Nataliya Humenyuk, head of the joint press center of Ukrainian Defense Forces of the South, said Monday on the Ukrainian parliament's television channel that the Russians had become "sandwiched" between Ukrainian forces and the river.
"The fire control that we maintain over crossings and transport arteries across the Dnipro makes them understand that they are sandwiched between the defense forces and the right bank—units that are in this part of the Kherson region," she said, according to The New Voice of Ukraine.
Humenyuk added that she had received information claiming that some of the Russian troops were demoralized. Ukraine reportedly offered them a chance to return home under "international humanitarian law."
Ukraine's Operational Command South also reported launching 15 airstrikes against Russian targets on Monday, destroying two drones. A further 260 rocket and artillery attacks were launched, according to Ukraine.
At least 90 Russian troops were purportedly killed as a result of Monday's offensives, while three Russian tanks, eight armored vehicles and several howitzers and rocket launchers were also said to have been destroyed.
Ukraine says that Russia's military activities have largely been defensive and focused on maintaining control of areas it still occupies. Ukrainian counteroffensives in the east and south have recently resulted in Ukraine taking back territory that Russia had captured earlier in the war.
While the Ukrainian military claimed continued success on Monday, it said Russia's military had been less successful, with multiple Russian airstrikes in the Dnipropetrovsk and Mykolayiv regions purportedly not causing any Ukrainian casualties. Newsweek has not independently verified any of Ukraine's claims.
Newsweek has reached out to the Russian government for comment.