Ukraine President Volodymyr Zelensky was quite clear when he spoke to former U.S. President Bill Clinton on Tuesday. When the United States ponies up more weapons and ammunitions for Ukraine, other nations will follow, Zelensky said.
"When the USA gives Ukraine artillery, then other countries support us and also provide it," Zelensky said during a teleconference with Clinton and a panel of "The Clinton Global Initiative" (CGI).
Zelensky continued: "When the USA recognizes [Russia] as a sponsor of terrorism, the democracies of Europe will also support this initiative. Therefore, when you ask me what the USA can do to help, to be leaders."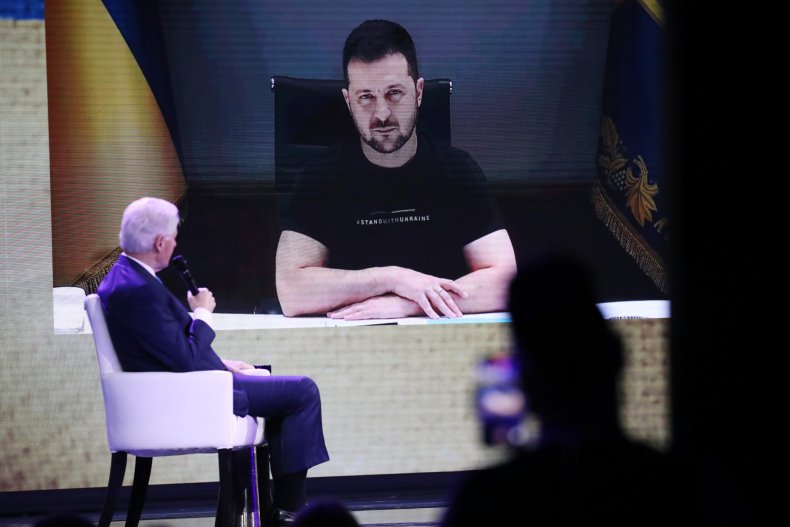 The Ukrainian president was gracious for any munitions received so far, but said the United States' influence upon other Democratic countries was necessary to help stockpile Ukraine as war against Russian aggression wades its way into not just the seventh month, but begins a curve into the winter season.
"They have the artillery we need, the appropriate weapons. And politically, the United States could put pressure here," Zelensky said.
Zelensky also used the opportunity to chat with Clinton to call upon world leaders who remained neutral in the conflict between Russia and Ukraine, which began its latest chapter on February 24, 2022.
"You can't balance between good and evil, light and darkness. You have to choose a side. Every subject, every state is open, free. So they can choose a side, but they can't be in the middle," Zelensky said.
Zelensky furthermore said the United States and Great Britain should spearhead efforts to keep Ukraine secure, leading the way for the European Union to follow suit.
"I think it is very important that the USA become the first country to sign these security guarantees with the Ukrainian side," Zelensky said.
When it was all said and done, Zelensky called his encounter with Clinton, the 42nd U.S. President, sincere and productive."
The war of Russian aggression enters its 28th week on Wednesday.
Russia began building troops along Ukraine's northern and western borders in late January, and they began attacking Ukraine on February 24. Since then, there have been heavy casualties on both sides. That includes Ukrainian civilians, foreign fighters, Ukrainian military and nearly 55,000 Russians.
Russia has called upon more volunteers in recent months to help form a new group of fighters for the war in Ukraine. A "lucrative" cash bonus was offered to those who would eventually become the country's 3rd Army Corps.
Recent intelligence indicates the 3rd Army Corps is moving to the front via rail lines.
"In recent days, our volunteers discovered photos and videos of the transportation of Russian military equipment by rail. The video shows the full warehouse of the Buk complex, and the photo shows T-80BV and T-90M tanks," Newsweek reported.