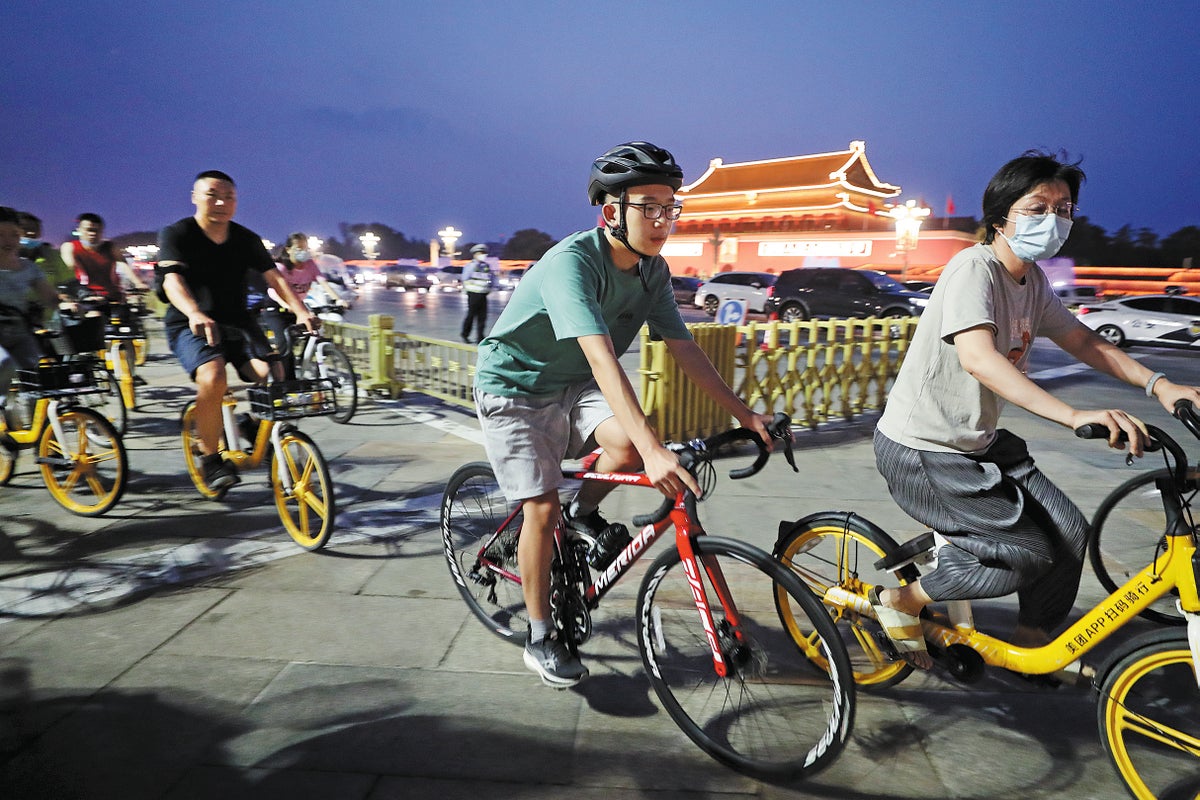 Qian Jiaqi, 39, who took up cycling in Beijing as a hobby when he was a teenager, has seen a well-known route he often takes after work become increasingly crowded with fellow cyclists during evenings and weekends.
"This summer on Chang'an Avenue it's like the Tour de France every night as cyclists on a wide range of bikes constantly try to overtake each other," Qian said. "On the avenue traffic jams are now forming in bike lanes, as well as in those designated for motor vehicles. It's quite funny in a way."
According to business insiders and experienced cyclists such as Qian, cycling in urban areas has become increasingly popular over the past two years in China, which was nicknamed the Kingdom of Bicycles in the 1980s and early 1990s.
Chang'an Avenue is arguably the most popular route for cyclists in Beijing, with its two cycle lanes positioned alongside those for motor vehicles. Motorcycles were banned from the cycle lanes on May 9, 2021, providing a safer and smoother experience for those turning the pedals. Chinese scholar trees planted alongside the bike lanes shade cyclists from the summer heat.
The avenue is also the perfect place to observe different types of leisure cyclists. Those such as Qian always attempt to improve their times, so it's easy to sense their frustration when they have to stop at red lights. Others prefer to ride at a slower pace, never missing the opportunity to take photos of Tian'anmen Square at sunset on their phones.
Cyclists using rental bikes may decide to venture somewhere on the spur of the moment. They relish the joy of travelling along a cycle lane adorned with fragrant scholar trees in summer.
"Many people have discovered the therapeutic benefits of cycling during the epidemic," Qian said.
"When I ride, I only focus on the road ahead. All the concerns about work and family are put on hold. It's like a mini escape."
Qian said he often cycles around the 40.6-mile Fourth Ring Road in Beijing after work, reaching an average speed of 16.3 miles per hour.
In 2018 a study of more than one million people in medical journal The Lancet confirmed that cycling is one of the top activities to relieve stress. According to the study, cyclists experience 21.6 per cent fewer days of poor mental health compared with those who do not take to the saddle, as the activity helps create positive endorphins in the brain.
It is no surprise that there has been a clear rise in the number of leisure cyclists in the past year, Qian said. He has also noticed that many newcomers to cycling are willing to spend large amounts on premium bikes, clothing and accessories, a reflection of rising income levels and living standards in the pursuit of healthier lifestyles.
Luo Xue, 31, an experienced cyclist who runs a bike workshop in Beijing, said the number of cyclists in China has soared in the past two years. "I don't even have time for a full interview – that's how busy I am as a result of the booming domestic cycling industry."
Many Chinese have a strong attachment to cycling, which was their main means of transport as they grew up, Luo said, adding that the epidemic has rekindled such enthusiasm.
Last year the revenue of Phoenix Bicycle of Shanghai was 2.05 billion yuan (£254 million), a year-on-year rise of nearly 50 per cent, according to the company's annual report. Its net profit rose by more than 71 per cent year-on-year.