A video of an anti-oil protester delivering an "iconic" speech while being hauled away by police has gone viral on social media.
Zoe Broughton, a video journalist, posted the video to Twitter on Monday, writing: "Hundreds of @JustStop_Oil supporters blocked Waterloo Bridge for a second day." It has amassed over 9 million views and thousands of retweets. You can watch the full video here.
Hundreds of protesters with Just Stop Oil, a climate campaign group in the UK, gathered on Waterloo Bridge on Sunday to "demand the government end the cost of living and climate crisis by stopping new oil and gas," the organization said in a press release. The sit-in followed a mass resistance march on Saturday that saw four of London's bridges—Waterloo, Westminster, Lambeth and Vauxhall—blocked by protesters.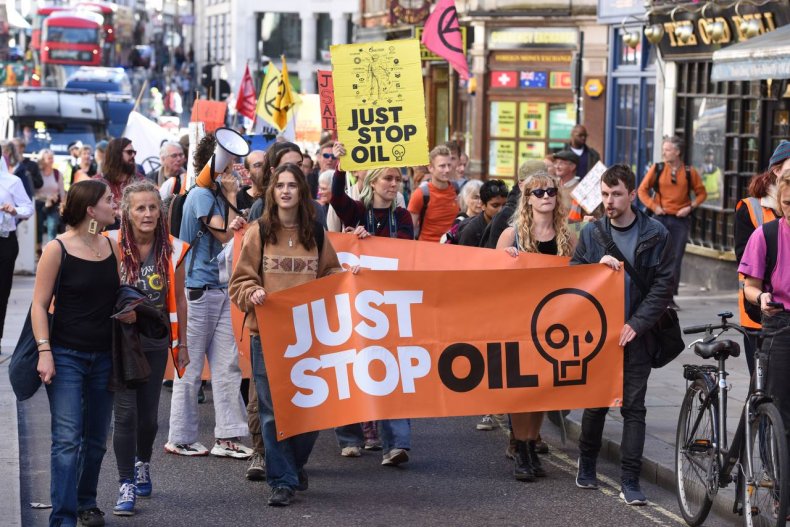 "On Sunday…Waterloo Bridge was blocked by several hundred people who are in civil resistance to our government," the Just Stop Oil press team told Newsweek. "Many of the public were in support, and some even joined the march that preempted the blocking of the bridge. Other members of the public [were] understandably frustrated with the disruption caused…[but] surely, disruption caused to draw attention to the criminality of our government pursuing new oil and gas projects is worthy."
The organization said police arrested 29 protesters during the demonstration. Still, "there is no place we would rather be," Just Stop Oil told Newsweek.
"When a government has broken the social contract of protecting its citizens, then being in civil resistance is the only course of action."
The woman in Broughton's video was one of several protesters physically removed from Waterloo Bridge. But before police could place her into a squad car, she delivered an "iconic" speech.
"I'm doing this for my son––the government's inaction on climate change is a death sentence for us all," she said as police carried her away. "The United Nations has said we should have no new oil. Liz Truss wants to [grant] 130 new oil licenses—that's a death sentence for this planet."
Just Stop Oil told The Independent that the woman was released from custody on Monday morning and doesn't face any charges.
Many viewers called the woman a "hero" and thanked her and her fellow protesters for their hard work.
"Thank you for being there, Zoe. [And] thank you to all activists," Joanie Lemercier said. "These words are resonating all around the world."
"She is a real hero—thank you," Alastair Walton wrote.
Femke Groothuis called the moment "iconic."
Newsweek has reached out to Zoe Broughton for comment.
Climate change has become a pressing issue around the globe.
America, in particular, has already experienced 53,338 wildfires this year. Rory Hadden, an expert on fire safety at the University of Edinburgh, said these fires are becoming "harder and harder to fight" thanks to climate change—a major issue facing politicians as midterm elections approach.
"We're pretty confident that climate change is having a huge impact on wildfires globally," Hadden said. "Certainly in the U.S. [wildfires] are becoming harder and harder to fight.
"It's not as simple as 'climate change is making everything hotter,'" he continued. "The problem is the extremes of the weather we're having…We're getting longer spells of drier weather and also periods of more rain."