The Try Guys have released a video addressing the recent cheating scandal surrounding their former member, Ned Fulmer, and another member has gone viral for his reaction.
"This is not who we are, and we took this very seriously," said Try Guys member Eugene Lee Yang in the YouTube video released on Monday titled "what happened."
Yang was joined by the remaining two Try Guys, Keith Habersberger and Zach Kornfeld, for the video in which the group told fans that they are "incredibly shocked and deeply hurt" over the way Fulmer exited the group. They also said that they have decided to delete Fulmer's presence in the group's videos, both going forward and retrospectively.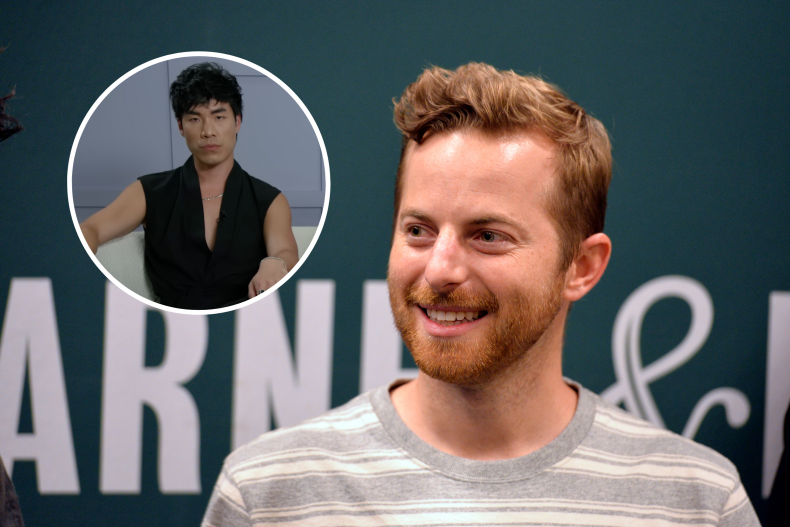 The scandal erupted last week when Fulmer, who is married, was accused of having an extramarital relationship with Alexandria Herring—an associate producer of the Try Guys—after images allegedly showing the two kissing in a New York City bar surfaced online.
Fulmer admitted to having an extramarital relationship last week and said in a statement that he "lost focus" and "had a consensual workplace relationship."
"I'm sorry for any pain that my actions may have caused to the guys and the fans but most of all to Ariel," he said. "The only thing that matters right now is my marriage and my children, and that's where I am going to focus my attention."
The affair proved quite shocking to fans as Fulmer had famously branded himself as a devoted husband and even co-authored a cookbook with his wife, Ariel Fulmer, entitled The Date Night Cookbook.
He and his wife share two children.
Now in their latest video Yang, Habersberger and Kornfeld confirmed to fans that they had no clue about the affair until Labor Day weekend this year and that Fulmer was "immediately" removed from all work activities once they found out.
"And thus began a three-week process of engaging with employment lawyers, corporate lawyers, HR, PR and more, in order to make sure we were taking all the necessary steps from the jump," Yang said in the video.
"We refused to sweep things under the rug," he continued. "That is not who we are and is not what we stand for."
Yang's angry and stoic expression throughout the video has moved fans and sparked a huge reaction online.
"i've NEVER seen eugene this mad and i've been watching the try guys for YEARS it actually SCARES ME," reads one viral tweet with over 73,000 likes.
While another tweet, which gained over 140,000 likes, said: "baby Eugene sitting in that new Try Guys video mad as hell omg."
Another tweet with over 170,000 likes read: "eugene was really like 'i can't say how p***ed i am with words for legal reasons so let me just say it with my face.'"
Another fan said: "this whole situation is heartbreaking but eugene expressing his thoughts even though he legally can't use its words was perfect. poor try guys :(."
One fan added: "If looks could kill."
Newsweek reached out to The Try Guys for comment.