Footage taken from a Ring doorbell camera shows a couple quickly getting back into their house with their baby just before two dogs sprint into their yard and up their porch.
Posted by u/MeowMyMix on the Reddit forum "Mildly Infuriating," the video shows two barking dogs as they rushed across the street.
"Me and my family trying not to be attacked by the neighbors dogs," read the title of u/MeowMyMix's post, which received more than 25,000 votes since it was published on Sunday.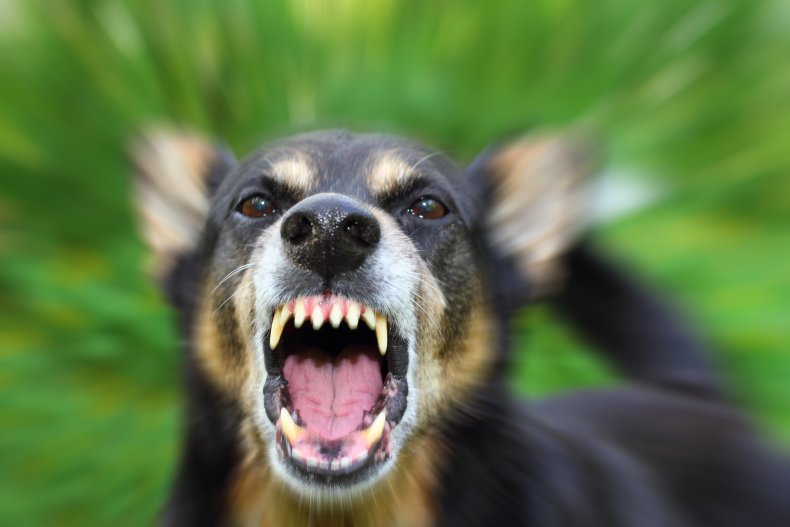 Brandi Hunter Munden, the vice president of public relations and communication for the American Kennel Club, told Newsweek in an email that it is important for dogs to be trained and understand boundaries.
"Training helps with building confidence, provides mental stimulation and strengthens the bond between the dog and their family," she said. "It is particularly important around children and babies so that they don't nip or present signs of aggression toward children."
Some of the most important boundaries a dog should understand are not jumping on people, running up and startling someone and nipping or biting at people.
"It is important to engage a professional trainer or find training classes to train a dog that seems to be more difficult to train," Hunter Munden said. "They can give you the proper techniques to successfully train your dog."
The organization noted that dogs will exhibit behavior a pet owner reinforces.
"Owners inadvertently reinforce all kinds of undesirable things, from excessive barking at the doorbell to counter surfing," it said. "Keep leaving food within reach on the counter, and your dog will learn that it's worth his while to check."
u/MeowMyMix and his wife stepped outside on their porch with their baby for just a moment before the sound of barking can be heard in the distance.
Then, two dogs are seen tearing across the street as they made a beeline for the couple's front porch.
The couple quickly and calmly made their way back into the house just as the dogs reached the stairs of the porch.
In the comments section, u/MeowMyMix said this was the first time he saw the dogs outside of the house. He added that he spoke with the police and hoped their visit to the owner would be enough for them to understand the seriousness of the incident.
"The owner came over and apologized 1000 times and said they are fixing the spring on the door and installing a gate on the porch as a deterrent and when he is sleeping his dogs will be in the house with him until he moves out sometime next year," u/MeowMyMix said.
Many Reddit users were surprised upon watching the video and took their thoughts to the comments section.
"I've seen aggressive/untrained dogs off leash in their yard and will approach or warn people that come near the yard, but never have I seen dogs just run off toward someone else's yard unprovoked," a Redditor wrote. "That's terrifying."
"Owners are legally (and morally) responsible for keeping their animals under control 100% of the time," another Reddit user wrote.
"Even if these dogs are friendly. They could be hit by a car or presumed dangerous," one Redditor said. "Why the hell would you let your beloved family member run all over the damn road."
Newsweek reached out to u/MeowMyMix for further comment.
Other Reddit users have taken their stories to the "Mildly Infuriating" forum.
An airline passenger who encroached on a fellow passenger's space faced backlash from Reddit users, while one couple said they found a hidden camera in their Airbnb.
Another post sparked a debate after it showed that a park bench was reserved for a birthday party.