Officials in Florida's Lee County, the area considered to be the worst hit by Hurricane Ian in the entire state, reportedly delayed efforts to evacuate people from at-risk zones in time, even as warnings from forecasters grew more urgent.
On Monday, most officials along the coastline of Florida issued orders to evacuate their counties as weather forecasters announced that the hurricane was predicted to grow in strength, make landfall in the state and cause likely storm surges. But Lee County officials failed to do the same, waiting instead to see how the weather forecast evolved, investigations by The New York Times found.
Lee County officials issued their evacuation order on September 27, less than 24 hours before the hurricane was expected to hit the ground in Florida.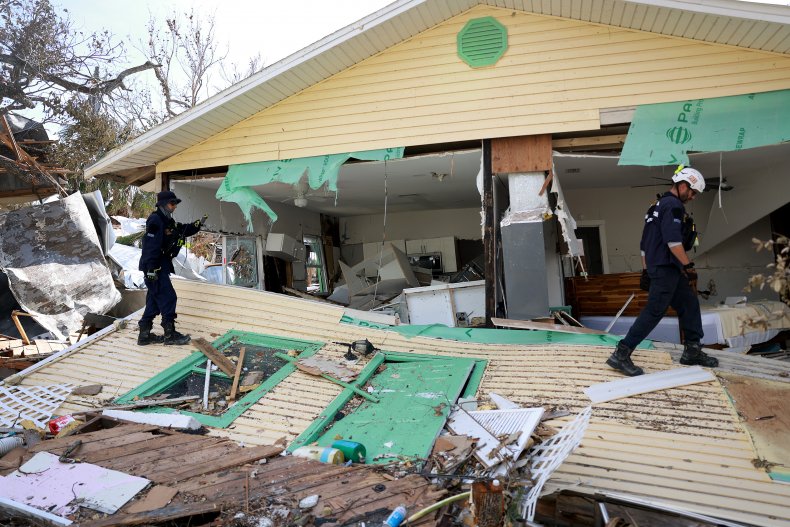 Hurricane and climatology expert Brian McNoldy, a senior research associate at the University of Miami Rosenstiel School, called the evacuation in Lee County "botched."
"That long-delayed evacuation of a high-risk area seemed troubling and suspicious… and it was. The forecasts were good, but the response to them was botched, with deadly consequences," McNoldy wrote on Twitter.
"We know that the county officials didn't obey their own evacuation protocols when it comes to storm surge threat," McNoldy told Newsweek.
"The threat was very well-known, real, and severe… but what officials and the public choose to do with that information is outside of my area. If it were me, I would have been out there on Monday."
Several other counties on the southwest coast of Florida issued their evacuation orders on Monday, September 26.
At least 90 people were found to have been killed during the Category 4 storm that hit Florida on the night of September 28, half of which were in Lee County. Rescue operations are still undergoing, and the total death toll is feared to be higher.
The streets of the residential cities of Naples and Fort Myers in Lee County were submerged in water on Thursday morning after the passing of the storm, with many residents grappling with flooding and damaged homes. Hundreds of thousands of people in the area were left without power.
Newsweek reached out to Lee County authorities and Florida Governor Ron DeSantis for comment. A DeSantis spokesperson argued about exactly which aspect of the emergency response was "botched," sending a thorough list of everything the state is now doing to support victims of the hurricane and repair what was damaged or destroyed in the passing of the storm.
DeSantis and his emergency management director have reportedly defended Lee County officials, saying the initial forecasts predicted that the storm would hit further north.
"They were following the data," DeSantis said at a press conference on Sunday, October 1. "And you remember, people were looking initially at the Panhandle on Sunday, then Monday came, and people were thinking maybe north of Tampa Bay. When we went to bed Monday night people were saying this is a direct hit on Tampa Bay, worst case scenario for the state.
"As that track started to shift south and the computer models, the next morning they called for the evacuation, they opened their shelters and they responded very quickly to the data."