The White House says there's been no progress on negotiations with Russian officials to free women's basketball star Brittney Griner, as she appeals her prison sentence for bringing a small amount of cannabis oil into the country.
White House press secretary Karine Jean-Pierre said during a press briefing Tuesday that the Kremlin has yet to respond to the "serious" proposal made by the Biden administration in July to free Griner. Jean-Pierre reiterated the White House's stance that Griner has been wrongfully imprisoned and called her coming appeal "another sham judicial proceeding."
A Russian court in August sentenced Griner, an Olympic gold medalist and top player with the Women's National Basketball Association's (WNBA's) Phoenix Mercury, to nine years in prison and a fine of about $16,000 after being found guilty of drug smuggling with criminal intent.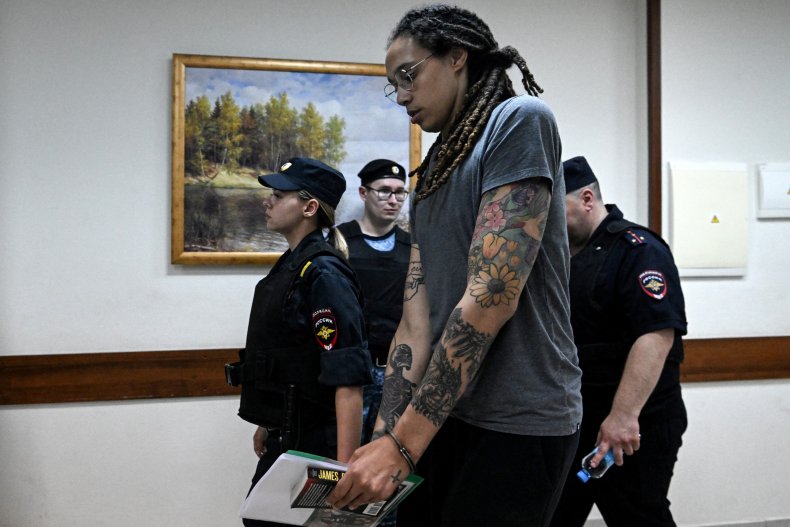 U.S. officials swiftly condemned the verdict and said they were working on a potential prisoner swap for Griner and Paul Whelan, another American who is serving time in Russia after the former Marine was arrested on espionage charges in 2018 at a Moscow hotel and later convicted to 16 years in prison. The proposed deal to free Griner reportedly involves the U.S. releasing Viktor Bout, an infamous Russian arms dealer known as the "Merchant of Death."
"We want Russia to take this offer that we have put on the table—a substantial offer as you've heard us say many times—seriously," Jean-Pierre said. "Or they can make a serious counteroffer, but they need to make a serious counteroffer."
President Joe Biden has met with the families of Griner and Whelan, Jean-Pierre said, adding that he has directed his administration "to engage with the Russian government through every available channel and make every effort to bring them home." Jean-Pierre said Biden is committed to releasing all Americans wrongfully detained abroad, pointing to how seven U.S. citizens were freed from Venezuela over the weekend.
Previously, the Kremlin has accused the U.S. of stymying negotiations on a prisoner swap.
Maria Zakharova, spokeswoman for the Russian Foreign Ministry, posted on Telegram in September that Moscow was prepared to talk but said U.S. diplomats weren't providing enough information, reported the state-run TASS news agency.
U.S. Secretary of State Antony Blinken brought up the prisoner swap during a conversation with Russian Foreign Minister Sergey Lavrov in July. TASS reported that U.S. media, citing unnamed sources, published stories that Russia was seeking to add another prisoner to the deal. Lavrov told Blinken to return to "quiet diplomacy," according to TASS.
Griner, 31, was arrested at an airport near Moscow in February after playing on a Russian team in the WNBA offseason. Her lawyers have argued she accidentally packed vape cartridges and cannabis oil, the latter of which they said she uses for medical purposes.
Newsweek has reached out to Calder Hynes, spokeswoman for Cherelle Griner, wife of Brittney Griner.