Maggie Haberman's newly released book about Donald Trump's origins in New York, Confidence Man, makes explosive revelations about the life of the former president, including during the time he was in office.
In her highly anticipated book, released on October 4, the Pulitzer-Prize-winning New York Times journalist writes that Trump considered using a heat ray on migrants crossing the U.S. southern border.
"[Jared] Kushner nevertheless egged on Trump's anger at [Kirstjen] Nielsen, whom Trump routinely pushed to consider new, violent extremes to reduce immigration; domestic- policy adviser Stephen Miller—who saw Trump as a vehicle to enact restrictionist immigration policies he had favored for years—told people he liked Nielsen personally but also believed she should be going further," the book says on page 350.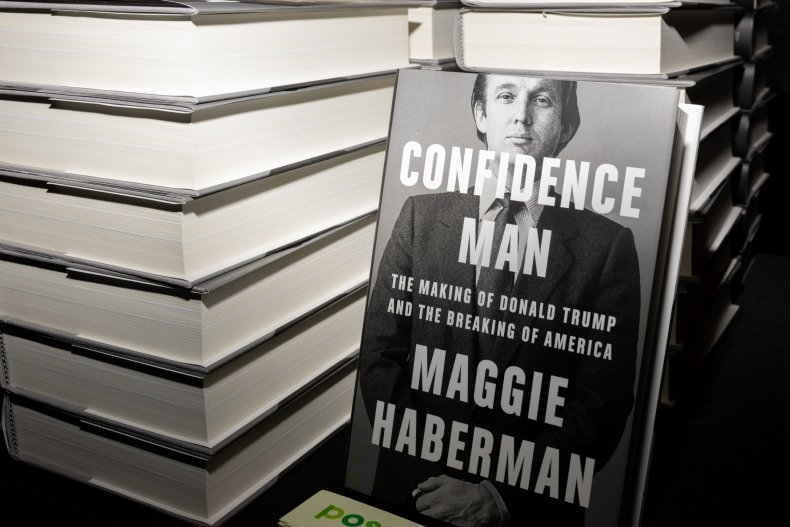 "Over time, Trump wanted the wall to be painted black so that the skin of immigrants trying to scale it would burn when they touched it, with spikes on top, and a moat dug along it. He asked whether border agents could shoot migrants attempting to cross. Some agents, responding to Trump's demand for 'extreme action,' suggested using a machine capable of emitting heat, or loud noises that would damage migrants' ears. Nielsen resisted these proposals, some of which violated the law."
Newsweek has reached out to Donald Trump for comment.
Haberman is considered to be one of the biggest chroniclers of Trump, having covered him extensively during his time in office.
Other revelations made by the book—which draws its material from interviews with Trump and more than 200 other people, including his former aides—show that Trump considered bombing drug labs in Mexico, flushed official documents down the White House's toilets and once took ethnic minority Democratic staffers at a congressional meeting in 2017 for waiters.
Among other bombshells included in the book is Trump wanting to fire his daughter Ivanka and Jared Kushner via tweet on 2018, but being prevented to from then-chief of staff John Kelly. Trump has denied ever wanting to fire the two.
Some of the other revelations made by Haberman in Confidence Man are a little less surprising, including the fact that Trump asked his attorney Rudy Giuliani to do "anything" in his power to overturn the 2020 election.
Trump himself has bashed Confidence Man as a "fake book."
"Here we go again! Another Fake book is out, this one, supposedly very boring and stale, by self appointed head case, Failing (unfunded liability!) New York Times writer, Maggie Hagerman," Trump wrote on his profile on Truth Social.
"In it she tells many made up stories, with zero fact checking or confirmation by anyone who would know, like me. In one case she lies about me wanting to fire my daughter, Ivanka, and Jared. WRONG, pure fiction. Never even crossed my mind. Just have to fight trouble making creeps like Maggie, and all the rest!"