Hocus Pocus 2 marked the return of the Sanderson sisters after almost 30 years, but now it seems like the characters could be back much sooner than fans think.
The sequel to the 1993 film was released on Disney+ on September 30 and it quickly became one of the streaming platform's top domestic movie debut to date, according to Collider.
With such a strong opening on Disney+, it seems like the film could be poised for a follow-up, and the cast has spoken of their interest in the matter.
Cast of 'Hocus Pocus' Speak on Making Movie Number 3: 'Never Say Never'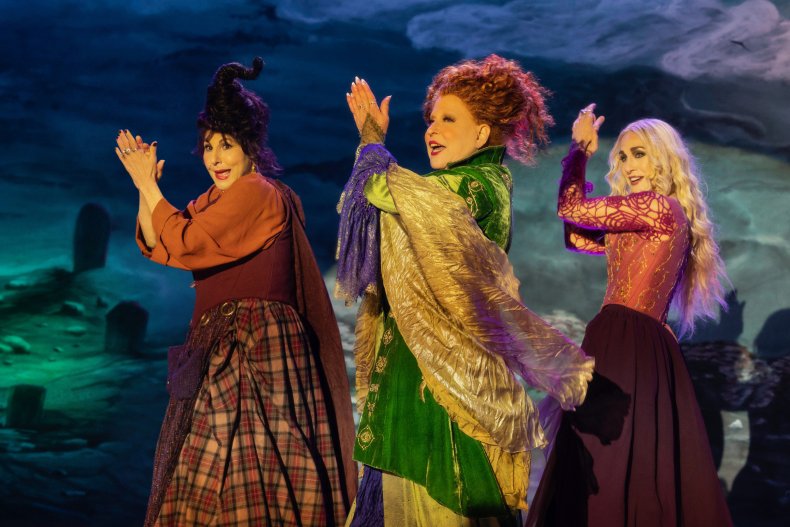 Hocus Pocus 2 sees the Sanderson sisters—Winnie (Bette Midler), Sarah (Sarah Jessica Parker) and Mary (Kathy Najimy)—brought back from the dead with a Black Flame Candle.
The witches wreak havoc as always and particularly become a burden for Salem teenager Becca (Whitney Peak), who later learns she is a witch herself and is able to defeat the Sanderson sisters once more.
In the film's post-credits scene it becomes evident that it might not be the last that fans see of the trio, however, as cat Cobweb walks around Gilbert's Olde Salem Magic Shoppe and passes a box with the label "B.F. CANDLE #2."
Though not confirmed, it seems likely that the label is referring to a second Black Flame Candle that could be used to bring back the Sanderson sisters once again.
Parker and Najimy have all expressed an interest in returning to the film franchise, with the former telling Extra that their co-star Midler had already brought up the idea, and if she wanted to make it happen then Parker would be on board.
The Sex & the City star told the outlet: "Bette is already starting rumors [of a third film]. I hitch my wagon to her star. If she wants to do a third one… No one says no to the Divine Miss M."
"Bette was the person who had this fervent wish that this would happen and could not be deterred from the idea," Parker added. "You should ask her, 'cause she will say, 'Absolutely, I always imagined. I've been telling them for years.'"
Najimy, meanwhile, said she'd be interested in doing another film during an interview with People, remarking that she believed in "never say never."
The actor added: "It was fun, but it's not nothing. It's a lot, but who knows?[…] Who knew that almost 30 years later we'd be doing this sequel?
"I think if we did it 30 years later again, well, there would be walkers and canes involved. The flying might just be a little one-foot blip off the ground."
Hocus Pocus and Hocus Pocus 2 are available to watch on Disney+ now.