Several Democrats in the midst of tight races and at risk of losing their respective Midterm elections share one sentiment: They don't want President Joe Biden to run again in 2024.
While Biden has evaded questions about running for reelection, White House press secretary Karine Jean-Pierre told reporters Tuesday "that the president intends to run." Biden also reportedly told the Reverend Al Sharpton last month that he plans to run again in 2024.
Recent polls show Biden with a slim lead in a hypothetical general election rematch with former President Donald Trump, who has not yet confirmed that he is running for reelection.
Among Democrats who want new blood in the Oval Office is Representative Tim Ryan of Ohio, who is locked in a tight race with Trump-backed Republican J.D. Vance for Ohio's U.S. Senate seat. Ryan said in an interview on Monday with Fox News that he has disagreed with the Biden administration's handling of student loan debt and immigration at the southern border.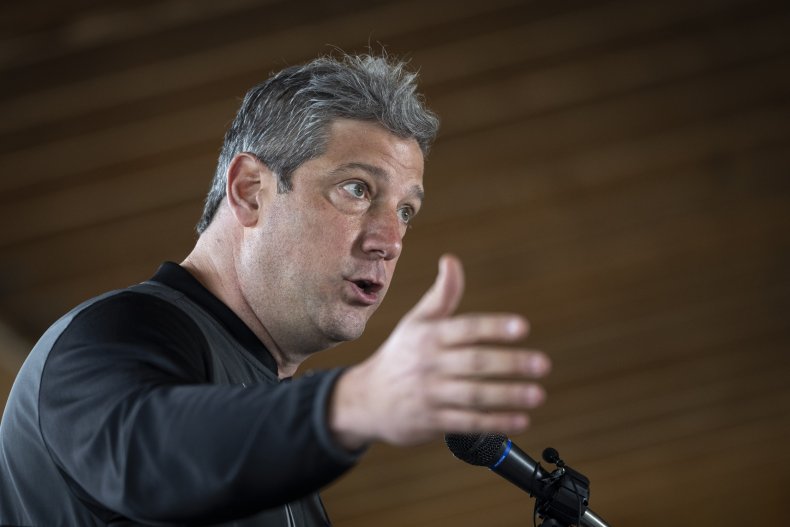 When asked if he was eager to have Biden campaign for him in the battleground state of Ohio, Ryan replied, "No, I'm not, and I'm really not inviting anybody."
It's a position Ryan, who previously challenged House Speaker Nancy Pelosi for the role of House minority leader in 2016, has consistently held.
The 20-year congressman told Youngstown radio station WFMJ last month that "generational change" is necessary for the next election. He made the comments one day before Biden visited Ohio to tout a $20 billion Intel project in the state.
"The environment politically across the country is poisonous, and people, I think, want some change," Ryan said. "It's important for us, in both parties, these leaders who have been around for a while, I think it's time for some generational change."
A poll released Wednesday by the nonpartisan Center Street PAC shows Ryan leading Vance 49 percent to 38 percent among likely voters, with 14 percent undecided. Ryan holds an eight-point lead among registered voters.
Max Rose is running to regain his House seat after losing in New York City's 11th Congressional District in 2020. He is in a rematch with Republican Nicole Malliotakis, who polling site FiveThirtyEight says is "clearly favored."
Rose, who served as a senior COVID adviser to the Pentagon in the Biden administration last year, reiterated Tuesday that he doesn't want Biden or Trump to run in 2024.
"I'm sick and tired of that generation being in power," Rose said. "We've got to move on."
Representative Angie Craig, who represents Minnesota's 2nd Congressional District, is called a "Democratic toss-up" by the Cook Political Report to win her rematch against Republican Tyler Kistner. That race could exceed $11 million in spending, CBS News reported.
"I would say we need new leaders in Washington up and down the ballot in the Democratic Party," Craig told Mother Jones in September when asked about Biden running again.
She has, however, voted with Biden 100 percent of the time, according to FiveThirtyEight. That point has been used in Republican attack ads after Craig told virtual town hall attendees that she has "bucked" the Biden administration when voting.
"Angie Craig is lying to voters because she knows her unwavering support for Joe Biden and Nancy Pelosi is not what Minnesotans want," National Republican Congressional Committee spokesman Mike Berg said in a statement last month.
Craig is joined in her sentiment against Biden's reelection efforts by Representative Dean Phillips, who represents Minnesota's 3rd Congressional District, according to Axios. Another nine House Democrats dodged the question entirely.
Newsweek reached out to Representative Tim Ryan, Max Rose and Representative Angie Craig for comment.