Prominent Republicans have strongly defended U.S. Senate candidate Herschel Walker following a report that he paid for an abortion for a former girlfriend in 2009.
Walker has said a story published by The Daily Beast is false and he will sue the outlet, while Republicans who have previously expressed their anti-abortion views have publicly backed him.
The Republican is in a close race in Georgia against Democratic Senator Raphael Warnock in a contest that could ultimately decide control of the Senate in November's midterm elections.
Here are the Republicans supporting Walker.
Donald Trump
Where he stands on abortion:
During the 2016 presidential election, former President Donald Trump pledged to appoint judges who would overturn the landmark Supreme Court abortion precedent Roe v. Wade. That pledge was fulfilled as Trump saw three of his nominees confirmed to the Court, all of whom were part of the majority that overturned Roe in June this year.
What he has said about Herschel Walker:
"Herschel Walker is being slandered and maligned by the Fake News Media and obviously, the Democrats," Trump said in a statement released on his Truth Social platform.
Trump said he believed Walker was "correct" in his denial of the claims made in The Daily Beast's article and urged people to vote for him.
"It's very important for our Country and the Great State of Georgia that Herschel Walker wins this Election," Trump said. "With all that Herschel has accomplished, when you come from Georgia and you see the name Herschel Walker when voting, it will be very hard to resist. Don't!"
Rick Scott
Where he stands on abortion:
Senator Rick Scott, chair of the National Republican Senatorial Committee (NRSC), described himself in a recent appearance on NBC News as "pro-life" and said that he supported "reasonable restrictions" on abortion and "there's arguments to do it at the federal level."
"I think a lot of people are comfortable with 15 weeks and exceptions for rape, incest and life of the mother, but every candidate gets to make their choice," he said.
What he has said about Herschel Walker:
"When the Democrats are losing, as they are right now, they lie and cheat and smear their opponents," Scott said. "That's what's happening right now. They know they are on the verge of losing the Senate, and they know that Herschel Walker is winning, so they have cranked up the smear machine."
"Herschel has denied these allegations and the NRSC and Republicans stand with him, and Georgians will stand with him too," the senator said.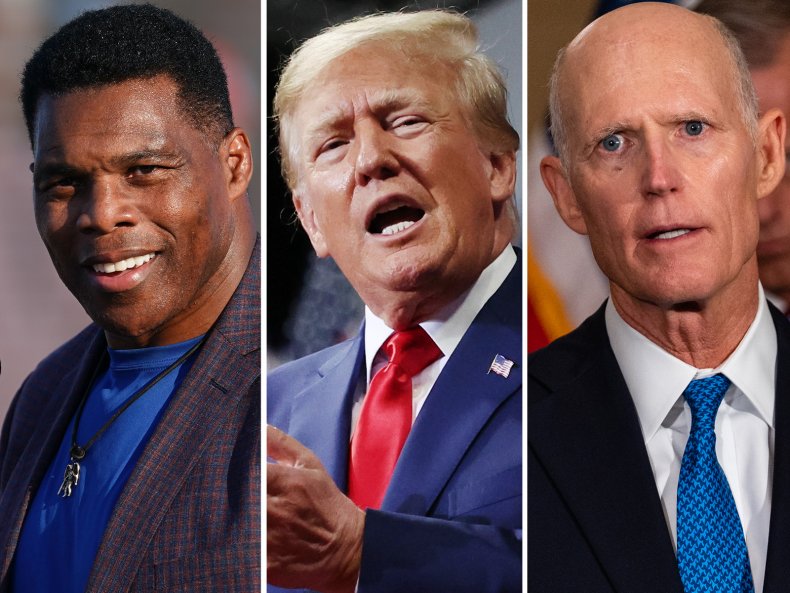 Ronna McDaniel
Where she stands on abortion:
Republican National Committee (RNC) Chairwoman Ronna McDaniel welcomed the Supreme Court's decision to overturn Roe v. Wade in June, saying "Life wins!" in a prepared statement.
"Millions of Americans are celebrating today's ruling and a pro-life movement that has worked tirelessly for decades," McDaniel said.
In 2019, McDaniel said she was personally opposed to an Alabama law that banned all abortions at any stage of pregnancy even in cases of rape or incest, though she said the GOP was "a broad tent."
What she has said about Herschel Walker:
"Georgia could decide the Senate majority, so desperate Democrats and liberal media have turned to anonymous sources and character assassination. This is an attempt to distract from Warnock's record of failure resulting in rising costs and out of control crime," McDaniel tweeted on Tuesday.
"Herschel Walker will deliver a safer and more prosperous Georgia, and the RNC will continue to invest in the Senate race," she added.
Newt Gingrich
Where he stands on abortion:
Former Speaker of the House Newt Gingrich touted his "consistent pro-life voting record throughout his twenty years in Congress" while seeking the GOP presidential nomination in 2011.
He also strongly criticized Joe Biden in 2019 for coming out against the Hyde Amendment, which banned federal funding for abortions except in cases of rape, incest or to save the life of the mother.
What he has said about Herschel Walker:
Gingrich told Fox News on Tuesday that he had spoken to Walker that morning.
"I think he's the most important Senate candidate in the country because he'll do more to change the Senate just by the sheer presence, by his confidence, by his deep commitment to Christ," Gingrich said.
Senate Leadership Fund
The Senate Leadership Fund, a Republican super PAC closely linked to Senate Minority Leader Mitch McConnell, has also pledged its continued support to Walker.
"We are full speed ahead in Georgia," said Stephen Law, the super PAC's president.
"This election is about the future of the country—Herschel Walker will make things better, Raphael Warnock is making it worse. Anything else is a distraction," Law said.
McConnell recently poured cold water on a proposed federal abortion ban introduced by Senator Lindsey Graham but the Kentucky Republican has worked for decades to guarantee a conservative majority on the Supreme Court, confirming Trump's three nominees.
Newsweek has asked the Walker campaign for comment.