Following several recent high-profile setbacks for Russia in its widely condemned invasion, the few strategic options former U.S. military officials believe that Vladimir Putin does have left would not be ideal for the Russian president aiming for a full "demilitarization" of Ukraine.
When Putin's army invaded Ukraine on February 24, many expected Ukraine to quickly be overrun. But more than seven months later, Ukraine's fierce resistance has contradicted Russia's image as a superior military power and has been chipping away at the stretch of Ukrainian territory that Putin's forces do control.
Ukraine's forces retook the city of Lyman in the eastern Donetsk region over the weekend in what the U.K.'s Ministry of Defence described as a "significant political setback" for Russia. Last week, Ukrainian military officials said that their rapid counteroffensive in eastern Kharkiv had only left 6 percent of the region to free from Russian control. In recent days, Ukrainians have made "significant gains" in another counteroffensive in the southern Kherson region launched in August, the Institute for the Study of War wrote in its October 4 campaign assessment.
In the wake of these setbacks, the best that Putin's army can hope to do in terms of strategy is to "defend, delay, attrit, create difficulties for the Ukrainians and buy time," Dan Soller, a former Army intelligence colonel and Russia and East European analyst, told Newsweek.
Even if troops drafted as part of Putin's recent partial mobilization, which was "badly done to begin with," were sent into Ukraine tomorrow, "they're not going to be successful to be able to do a counteroffensive," Soller said.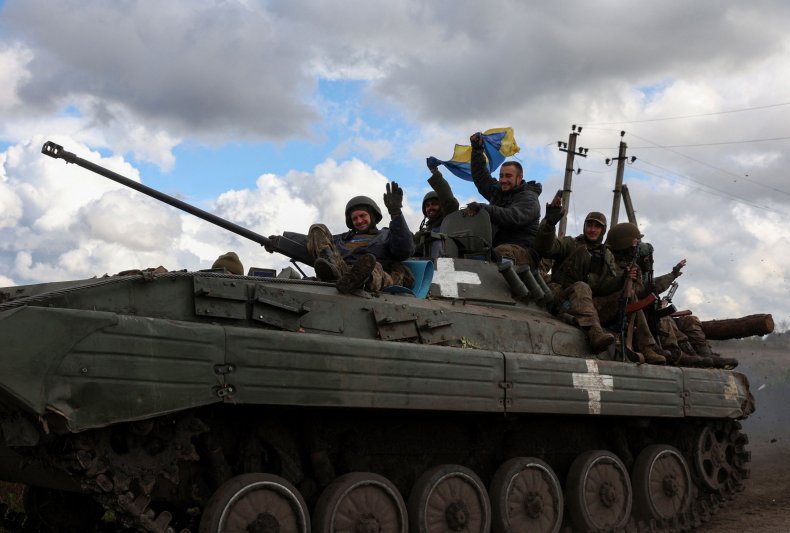 "The best they can do is slow down the offensive by the Ukrainians, in my view, because the Russians have lost so much equipment….You have to have the equipment, then you have to have the people trained to actually use that," Soller said. "And then you have to have staff that can actually understand how to put it all together, string a lot of tactical events together to have a counteroffensive."
"In my view, the Russians don't have that anymore, and I don't think they will for the remainder of this war," he added.
Russia still may be able to make small gains on a local level, Soller said. He mentioned continued Russian efforts to seize the city of Bakhmut in Donetsk, which he said ultimately wouldn't serve a major purpose for Putin at this stage of the war. Soller predicted there will be some Russian reinforcements to the south of the Siverskyi Donets River to protect that area, as well as near the cities of Severodonetsk and Lysychansk and perhaps further north in the Donbas.
On the other hand, retired Major General Paul Eaton believes that the best thing Putin can do now in terms of strategy would be to understand that the war for Russia "is over," and frame his declared annexation of four Ukrainian regions as a "marvelous victory" and then move on.
"Because he has lost this," Eaton told Newsweek in reference to the war. "He's lost it in the court of public opinion. He has lost it in the eyes of the Ukrainians at all levels, and he's lost it in the eyes of NATO, which is something that he really needs to fear."
Eaton said that Putin has demonstrated two very significant problems in the conflict: He failed to understand the nature of his enemy by underestimating Ukrainians and also overestimating his own military capabilities. Despite outside perceptions that Russia's army, or the Russian-led Soviet army at the time, had evolved since the Cold War, this is not the case, Eaton said.
Additionally, Russia "grossly underestimated the logistics requirements to support this fight" and its military failed to adequately arm, train, equip, feed and resupply Russian troops, he added.
"That is not done in warfare….You do not fail to provide ammunition to your soldiers. You do not fail to give them food and water. That's simply an absolute sin on anybody's battlefield, but especially a modern battlefield," Eaton said.
Latvian-based Insider predicted in late August that Russia would run out of weaponry by the end of the year, while a video circulated on social media last week that purportedly showed a Russian military official telling conscripts they would need to supply their own sleeping bags, first-aid kits and other basic supplies.
When asked if Putin would cut his losses and recognize defeat in what he assessed to be the smartest strategy, Eaton said that the common thread about the Russian president is that "he's unpredictable, that his back is against the wall."
Eaton noted that Russia has a doctrine for nuclear weapon use in situations cast as an existential threat to the country. Notably, Putin threatened in an address last month that he could respond to what he alleged was "nuclear blackmail" from the West with his nation's weapons.
"We don't know what he's going to do. The fact that he has annexed these four oblasts and that the Ukrainians are moving to recover territory that is Ukrainian, will he say you are attacking Mother Russia and therefore we're going to use a nuclear weapon? That's the concern," Eaton said.