Clips from the new movie Trick or Treat Scooby-Doo! have been circulating among social media users discussing what is seemingly a confirmation that Velma Dinkley is a lesbian.
GLAAD, the prominent LGBTQ advocacy organization, celebrated the news in a statement to Newsweek.
"It is equally exciting and validating for audiences to see Velma, a character from such a beloved and long-running franchise, finally get to be her true self in Trick or Treat Scooby-Doo!" Anthony Allen Ramos, Vice President of Communications & Talent at GLAAD, said.
In a scene from the animated Halloween feature, which was digitally released on Tuesday, Velma is seen encountering Coco Diablo, a new character to the series. The nerdy Velma reacts by becoming speechless while admiring different traits she picks up on about Diablo, including her fashion sense and her love of animals.
Many fans were as enthusiastic as GLAAD was about Velma coming out.
"OMG LESBIAN VELMA FINALLY CANON CANON IN THE MOVIES LETS GOOOOOO," wrote one Twitter user.
Ramos wrote to Newsweek about the importance of a main character in a cartoon showing the normalcy of same-sex attraction.
"There is a long industry trend of LGBTQ inclusion in kids and family programming as this genre becomes more reflective of the diversity of the real world," Ramos said. "LGBTQ youth and families should be able to see themselves represented in this type of programming just as anyone else."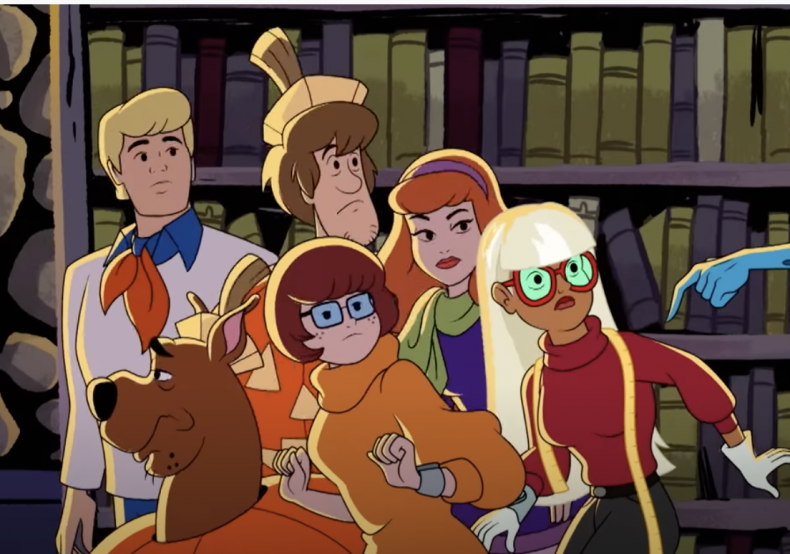 Fans have long speculated about Velma's sexuality, as have people who have worked on the franchise.
James Gunn—before he reached mega-stardom by directing Guardians of the Galaxy and The Suicide Squad—wrote the early 2000s live-action Scooby-Doo movies. In 2020, he said that he had attempted to make Velma a lesbian but met resistance from the movie studio.
"In 2001 Velma was explicitly gay in my initial script," he wrote on Twitter. "But the studio just kept watering it down & watering it down, becoming ambiguous (the version shot), then nothing (the released version) & finally having a boyfriend (the sequel)."
Tony Cervone, who worked as a supervising producer on the Cartoon Network's animated Scooby-Doo! Mystery Incorporated series (2010-2013), also once stated Velma is a lesbian on Instagram.
"I've said this before, but Velma in Mystery Incorporated is not bi. She's gay. We always planned on Velma acting a little off and out of character when she was dating Shaggy because that relationship was wrong for her and she had unspoken difficulty with the why," Cervone wrote in the comments section for a post about Pride Month in 2020.
Cervone added, "There are hints about the why in that episode with the mermaid, and if you follow the entire Marcie arc it seems as clear as we could make it 10 years ago. I don't think Marcie and Velma had time to act on their feelings during the main timeline, but post reset, they are a couple. You can not like it, but this was our intention."
Velma will also soon be the central character in an adult animated series executive produced by Mindy Kaling for HBO Max. Kaling, who will also provide the voice for Velma, has not indicated if the character's sexuality will be brought up on the show, but she has said her Velma will be South Asian.
Newsweek reached out to Warner Bros. for comment.