Ukraine said it shot down six Iranian-made drones on Wednesday that were being used by Russia during the ongoing war, casting doubt on Iran's denial that it has sold unmanned aerial vehicles (UAVs) to Russia.
The General Staff of the Armed Forces of Ukraine wrote in an operational update on Wednesday that Ukrainian air defense units shot down seven Russian-operated UAVs. "Six of them are of Iranian production," the update said.
Ukraine's report that it took out several Iranian-made drones came the day after Iran doubled down on its denial about selling UAVs to Russia to aid it in its war against the Eastern European country. The Washington Post, citing unnamed U.S. officials, reported in August that Russia had picked up its first shipment of the UAVs and departed Iran with them on August 19.
In July, national security adviser Jake Sullivan told CNN that the U.S. had information that Iran was preparing to provide several hundred drones to Russia, including weapons-capable UAVs.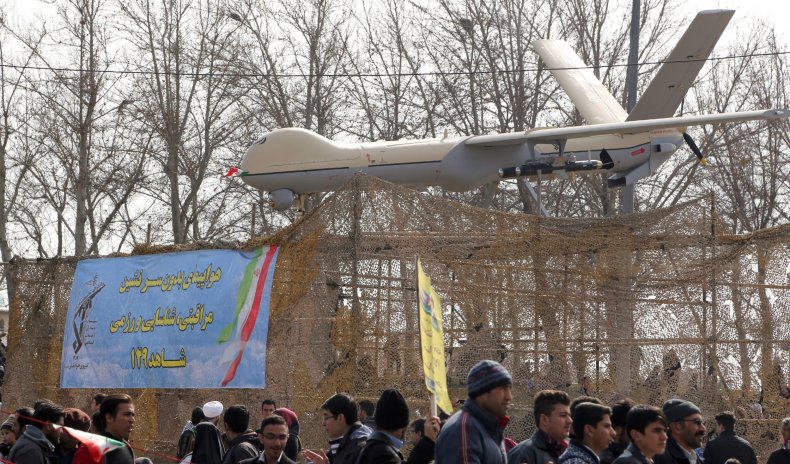 Iranian Foreign Minister Hossein Amir-Abdollahian declined to confirm the sale of the drones in an interview with Italian newspaper La Repubblica in July, saying that Iran "will not help either side involved in this war because we believe it must be stopped."
In a statement on Tuesday, Iranian Foreign Ministry spokesman Nasser Kanaani reiterated that Iran would not confirm that it had provided drones to Russia, calling news reports on the alleged sales "baseless."
"Since the beginning of the conflict, we have always announced our principled and clear policy on active impartiality and opposition to war, underlining the necessity of a political resolution to disputes between the two sides, and away from violence," Kanaani's statement read.
He went on: "Accordingly, over the past months, the foreign minister of the Islamic Republic of Iran, in numerous meetings and contacts with his Russian and Ukrainian counterparts, has always reiterated the need for the resolution of disagreements in a peaceful manner and through talks and has announced Iran's readiness to help this process."
But in recent weeks Ukraine has reported destroying Iranian-made drones in several instances. Last month, Ukraine's Defense Ministry shared pictures on Twitter of what it said was a wrecked, Iranian-supplied Shahed-136 kamikaze drone that had been destroyed in the country's eastern Kharkiv region.
Also last month, Ukraine said that it shot down four Shahed-136 drones at once in the Mykolaiv region.
Newsweek reached out for comment to Russia's Defense Ministry and the Interests Section of the Islamic Republic of Iran, which is part of the Pakistani Embassy in Washington, D.C.