A Florida resident shared a video of his narrow escape from Hurricane Ian as the storm approached his home in Pine Island last week.
The video, shared to Twitter by Chris FL Tornado on Wednesday evening, starts with a view from the house's balcony and shows heavy rainfall and increasingly strong wind gusts blowing in along the coastline. The video then cuts to the man making his drive toward inland Florida, escaping on the only bridge connecting the island to the peninsula.
Chris said in the tweet that he was lucky "no downed trees blocked" him from safely getting off the island. The Pine Island Road bridge sustained severe storm damage and only reopened for public access on Wednesday evening, according to Fort Myers CBS affiliate WINK.
Chris said in the tweet that he left his home at about 8:30 a.m. local time and was able to get himself and his mother to safety from the storm surge. Hurricane Ian made landfall near Cayo Costa, just west of Pine Island, later that afternoon.
Lee County, which includes Pine Island and the surrounding area of Fort Myers, faced some of the worst devastation from the Category 4 hurricane, accounting for over half of the storm-related deaths officials have reported.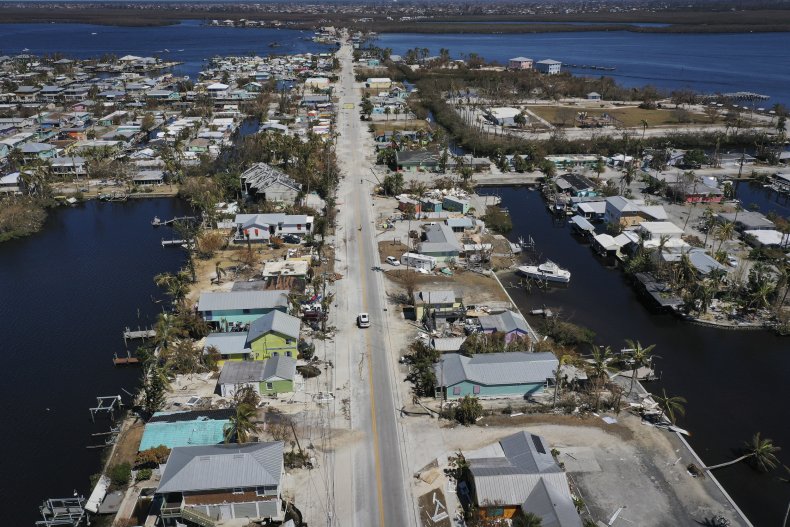 Florida Governor Ron DeSantis announced on Wednesday that access to Pine Island had been restored after three days of construction.
"Within 24 hours after I asked [Florida Department of Transportation] to get involved, we had more than 130 trucks rolling in and crews got to work," DeSantis said in a press release Wednesday. "We made it a priority and we didn't just get it done, we got it done quick."
DeSantis said he had seen plenty of debris and damaged infrastructure when he toured Pine Island on Tuesday, according to WINK, but added that he had also come across several "resilient" residents who stayed on the island during the storm.
"There was no way they were going to leave this island," DeSantis said, according to WINK. "This is their home."
DeSantis also told residents in a press conference on Wednesday to "be patient" as emergency crews work through the "last little kinks" to reopen the island to the public, according to the news station.
Pine Island's southern neighbor, Sanibel Island, remains inaccessible by car, and repairs to its bridge are expected to be completed by the end of the month, according to the press release from DeSantis.
President Joe Biden also visited the Fort Myers area on Wednesday to discuss recovery efforts with DeSantis and local business leaders. The president and first lady took a helicopter ride to survey the damages in the surrounding area.
In a press conference, Biden also praised DeSantis in his recovery efforts so far, saying the governor had done a "remarkable job."
As of Wednesday evening, 143,235 customers are still without power in Lee County, according to PowerOutage.us.
Newsweek reached out to the office of DeSantis for comment.