Mehmet Oz, the Republican candidate for November's key Pennsylvania Senate election, has narrowed the gap with his Democratic rival, but remains behind on key issues like the economy and crime, according to the latest Monmouth University Poll.
It is less than five weeks until American voters cast their ballots in crunch mid-term elections, with control of both chambers of Congress up for grabs.
Taking Pennsylvania, which has a Republican-dominated legislature but backed Joe Biden in 2020, could determine which party controls the Senate in 2023.
The new survey, from the Monmouth University Polling Institute, found 43 percent of Pennsylvanians will either "definitely" or "probably" vote for Oz, versus 48 percent for his Democratic opponent John Fetterman, the current Pennsylvania lieutenant governor.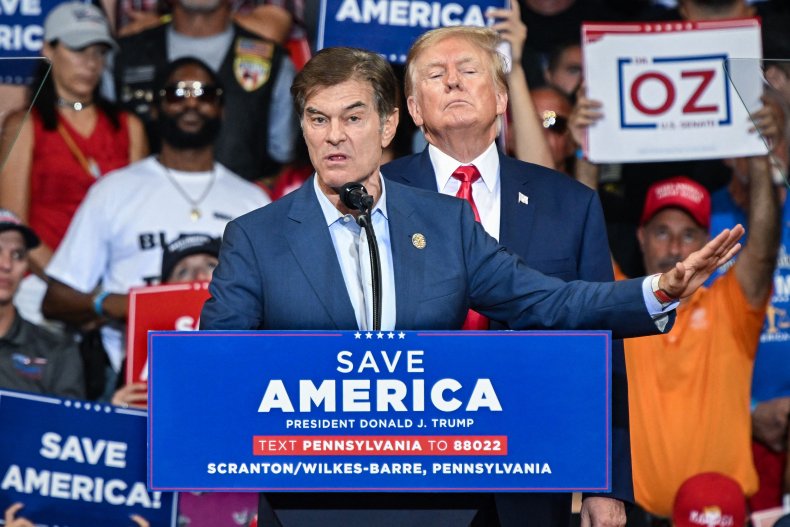 This is an improvement for Oz, with only 39 percent "definitely" or "probably" planning to vote for the GOP candidate in the last Monmouth survey published three weeks ago, when Fetterman polled one point higher at 49 percent.
However, in a blow to the Trump-aligned Republican only 25 percent of voters say they will "definitely" vote for Oz, versus 37 percent for Fetterman.
The latest Monmouth University poll was conducted by telephone between September 29 and October 3, with 610 Pennsylvania voters surveyed.
It found the single biggest issue for Pennsylvanians is "jobs, the economy and cost-of-living", which 39 percent said would be "extremely" important in determining their vote, while 48 percent replied "very."
Elections and voting processes were deemed "extremely" important by 31 percent of voters, the second highest figure, with another 43 percent saying this is "very" important.
Crime and "defending your values" were the next highest concerns, with both "extremely" important in determining 30 percent of votes and "very" important for another 45 percent.
Fetterman has a clear lead on jobs and the economy, where 45 percent of voters say they trust him most versus 36 percent for Oz.
Patrick Murray, Monmouth University Polling Institute director, noted this is despite the economy being a strong issue for Republicans nationwide.
He said: "The economy is an issue that has generally helped Republicans in national polling, but Oz has not been able to capitalize on it."
The Democratic candidate also enjoys a clear lead on "elections and voting processes," with 43 percent trusting him ahead of Oz on 31 percent.
Fetterman leads Oz on crime, with 45 percent of voters trusting him most to tackle the issue versus 38 percent for the Republican.
The starkest divide is on abortion, where just 29 percent of voters trust Oz, as against 48 percent for Fetterman.
Abortion surged up the political agenda in June, when the Supreme Court overturned Roe vs. Wade, ending nearly 50 years of legally entrenched abortion rights across the U.S.
A poll found President Biden's popularity with women surged by 10 percent between July and September 2022, following the ruling.
Murray said the Monmouth University poll shows Fetterman's support is becoming more entrenched.
He argued: "Fetterman maintains an edge as his support is starting to solidify. Oz's higher negatives are driven in large part by the sense that that he is out of touch with most Pennsylvanians."
In another close Senate race, Herschel Walker, the GOP's Senate candidate in Georgia, is embroiled in controversy after the Daily Beast reported he paid for his ex-girlfriend to get an abortion in 2009, though he denies the account.