A protester who was tackled by Los Angeles Rams linebacker Bobby Wagner during a Monday night football game has filed a police report in connection with the incident.
During the incident, which was caught on video and went viral, the protester can be seen running onto the field during the game holding a pink flare while he is chased by a security guard. Defensive lineman Takk McKinley can be seen running toward the protester before Wagner tackles him to the ground.
The filing of the police report was first reported by news outlets including TMZ and ESPN.
In an email to Newsweek, Santa Clara Police Lieutenant Cuong Phan said that he can confirm that an individual filed a police report in connection with the incident on October 4.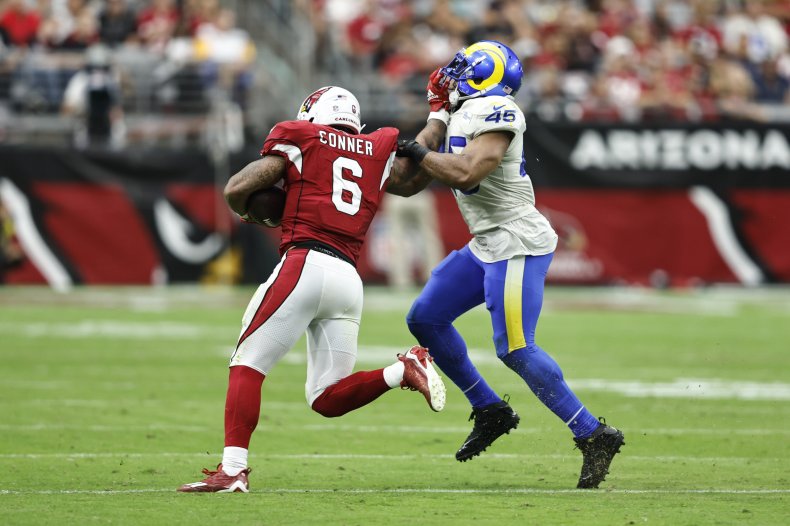 "Again, this is an active investigation and information will be limited. We are not releasing the name of the individual at this time," Phan wrote.
The incident occurred during a game between the Los Angeles Rams and the San Francisco 49ers at Levi's Stadium in Santa Clara, California.
The protester in the video was later identified as Alex Taylor, an animal rights activist with the group Direct Action Everywhere. Taylor was protesting to draw attention to the trial of two of the group's members in Utah, where they have been accused of stealing pigs.
Direct Action Everywhere told Newsweek that it believes the tackle was "pretty excessive, considering the protester is so much smaller than him, clearly posing no threat to anybody."
During a press conference on Wednesday, Wagner said that he was aware of the police report.
"It's behind me," Wagner said. "Can't really focus on it. I'm more concerned about the security guard who was hurt trying to chase him."
"You just never know. People just run on the field for no reason sometimes and again, I'm pretty sure it's going to keep happening, but you just never know what that person has got in their pockets, their hands," he added. "There's consequences for your actions."
After the incident on Monday evening, Wagner said that he stepped in when he saw that "security were having a little problem."
"I saw someone running on the field and he wasn't supposed to be on the field. So security was having a problem, so I helped them out," Wagner said at the time.
Newsweek has reached out to the Los Angeles Rams for comment.