North Korean missile tests this year are reportedly at an all-time high, representing a stark contrast to a period of slowed launches under former President Donald Trump's administration.
The most recent launch took place on Thursday, when North Korea fired a set of what appeared to be short-range ballistic missiles. And earlier this week, the country fired a missile over Japan that reportedly had a range capable of reaching the U.S. island territory of Guam, underscoring heightened tensions between North Korea and the U.S.
North Korea's launches this year alone are its most ever, according to the Associated Press, but it also conducted a series of tests in 2021. This onslaught of launches during the Biden administration followed a temporary period of seeming calm during Trump's presidency. In 2018, when Trump was still in office, North Korea didn't conduct any nuclear or missile tests, NBC reported.
"This is an unprecedented pace of testing for the North Koreans. I've never seen this many tests in this short of time," Jenny Town, a senior fellow at the Stimson Center and the director of Stimson's 38 North Program, told Newsweek in reference to North Korea's launches in 2022.
She outlined several reasons that could explain the ramped-up pace of tests in North Korea this year, including that the period of slowed launches during the Trump administration came because the U.S. was actively negotiating with North Korea during that time, and it isn't now.
During that diplomatic process, North Korea had a self-imposed moratorium on nuclear weapons testing and long-range ballistic missile testing, she explained. But this has changed since the failure in 2019 of the Hanoi Summit, the second meeting between Trump and North Korean leader Kim Jong-un meant to discuss North Korea's nuclear and missile programs and establish a new relationship between the two countries.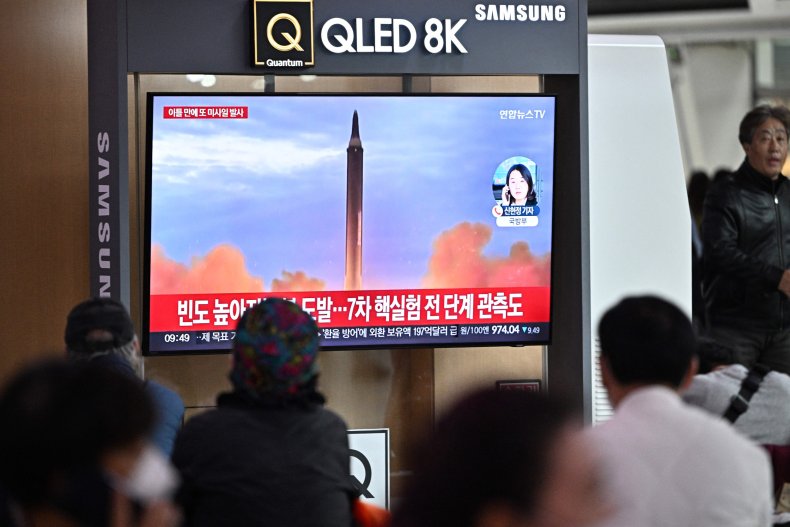 The summit was cut short without a deal being reached, and North Korea has since said on a number of occasions that it no longer holds that self-imposed moratorium as valid, Town said. While the current pace of North Korea's tests is unprecedented, "the systems that we're seeing are all in line with the goals that they set at the Eighth Party Congress in January 2021," Town added.
The Eighth Congress of the Workers' Party of Korea (WPK) set goals for North Korea's national policies, such as for the economy and national defense, for the subsequent five years, according to the Open Nuclear Network.
Leading up to the Eighth Party Congress and in the months after it, North Korea "clearly did a lot of planning and a lot of manufacturing and development, to be able to have all of these systems ready to test back to back throughout this year," Town said.
And now, the U.S., South Korea and Japan have been responding to North Korea's tests with their own joint military exercises, moves that have drawn criticism from North Korea. Following Tuesday's missile test, for example, U.S. Indo-Pacific Command (USINDOPACOM) released statements announcing that U.S. Marine Corps fighters had conducted a bilateral exercise with Japan Air Self-Defense Force fighters and that U.S. Indo-Pacific Command and South Korean military personnel conducted a bilateral exercise over the West Sea.
North Korea has said before that its principle moving forward is "power for power, goodwill for goodwill," which could mean matching the U.S. when it conducts drills, Town said.
"But in terms of missile testing in general, it's more that North Korea has these goals to accomplish against the plan. They're going to do that regardless of what the U.S. is doing," she added.
Newsweek reached out to the State Department for comment.