Miami Dolphins quarterback Tua Tagovailoa is being warned by a concussion expert that playing again this season could prematurely end his NFL career.
Tagovailoa suffered a concussion last Thursday during the second quarter of a Dolphins game against the Cincinnati Bengals. His helmet came off after the hit, and for some moments he looked in distress on the field. This followed a hit earlier in the game, which left the quarterback stumbling, although the Dolphins said that was due to a back injury rather than a blow to the head.
Tagovailoa was taken to the University of Cincinnati Medical Center but was released later that night and flew back with the team to Miami. He was also hit hard in the team's September 25 game against the Buffalo Bills, suffering what the Dolphins first said was a head injury. Their coach later said Tagovailoa injured his back.
Since the Bengals game, the NFL Players Association has opened an investigation into how the Dolphins have handled Tagovailoa's injury.
A leading concussion expert told Newsweek that Tagovailoa should now miss the rest of the season, as a third concussion could bring his career to a premature end. Chris Nowinski, a neuroscientist and author, as well as co-founder and CEO of the Concussion Legacy Foundation, said, "Tua should not play the rest of the season for both medical and professional reasons."
Nowinski continued: "If he gets a third concussion in one season, it could give him permanent symptoms and end his career. But even if he recovers from a third concussion, NFL teams will consider him 'concussion prone' and it will impact his future earnings. He is in a no-win situation if he returns."
After the Bengals game, Tagovailoa posted a statement on social media, thanking his fans for their support and promising he would be focusing on his return to playing with team.
He wrote: "I want to thank everyone for all of their prayers and support since the game last night. It was difficult to not be able to finish the game and be there with my teammates, but I am grateful for the support and care I've received from the Dolphins, my friends and family, and all the people who have reached out."
He continued: "I'm feeling much better and focused on recovering so I can get back out on the field with my teammates. #TTAG #FinsUp."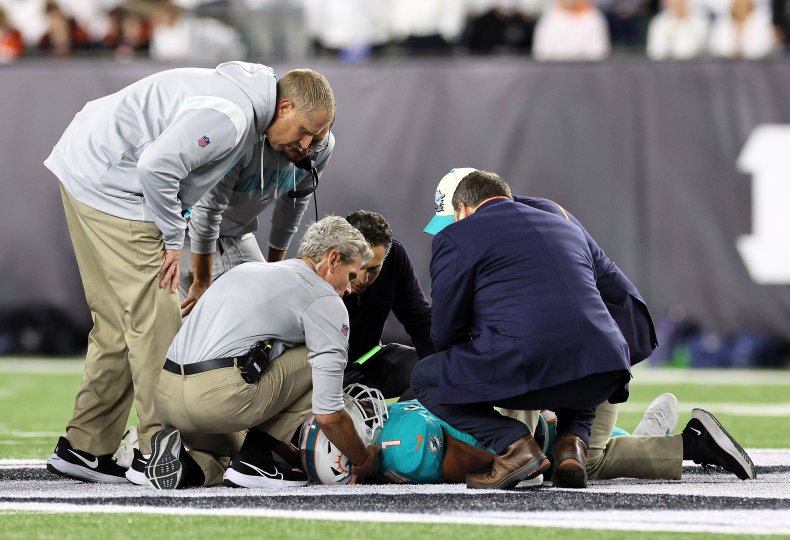 Concussions have become an increasingly louder talking point for the NFL. Another quarterback on the field where Tagovailoa suffered a concussion was Bengals passer Joe Burrow, who has talked about playing while feeling concussed.
Speaking on the Colin Cowherd Podcast on Wednesday, Burrow admitted that he has played entire game halves that he now doesn't remember.
He said he thinks he has suffered at least one concussion during a game. Asked how it felt, he said, "It's hard to say."
He continued: "You start to ring a little bit. I've never had any lasting effects from a concussion. I've been hit and forgot the rest of the game before. That has happened a couple of times. But I've never had one where I have headaches for a week or where I have symptoms where I have headaches for like a week.
He went on: "I've had some [hits] where I don't remember the second half or I don't remember the entire game or I know I got a little dizzy at one point. But nothing long-lasting."
Burrow also said he believes "everybody has [had a concussion] that plays this game."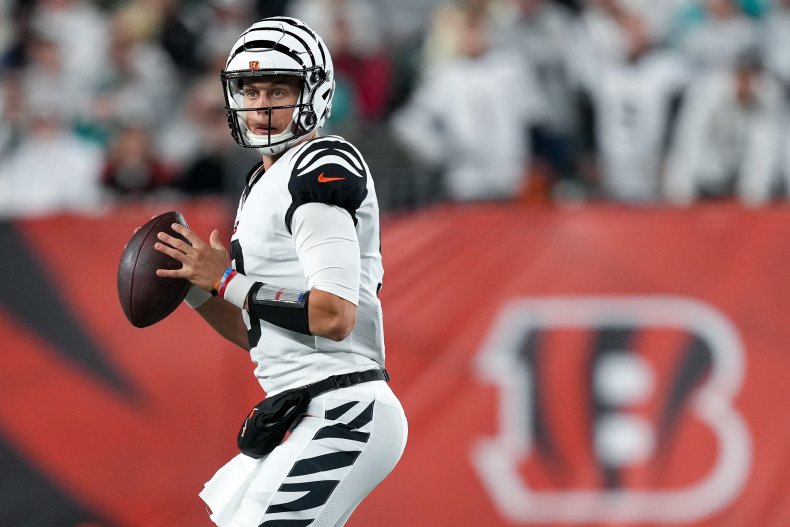 Speaking about players' safety in football, Burrow said on the podcast: "You can make all the rules you want to make the game as safe as you possibly can, but there's an inherent risk and danger with the game of football.
"You have 300-pound men running 20 miles an hour trying to take your head off while you're standing still, trying to ignore it and find receivers that are open. And then sometimes you have to go run to try and get a first down… It's part of the game, I think. Part of what we signed up for.
He went on: "You're going to have head injuries. You're going to tear your ACL. You're going to break your arm. That's the game that we play. That's the life that we live. And we get paid handsomely for it. I think, going into every game, we know what we're getting ourselves into."