A 48-year-old man was arrested on Tuesday morning as a suspect in the kidnapping and murder of a Central Valley family of four in California, according to the Merced County Sheriff's Office.
The man, identified as Jesus Manuel Salgado, is currently in a critical condition in the hospital after attempting to kill himself before detectives could reach him, officials said.
Police were able to interrogate him over the case, but Salgado is refusing to cooperate as the sheriff's office investigates the murders of the four family members.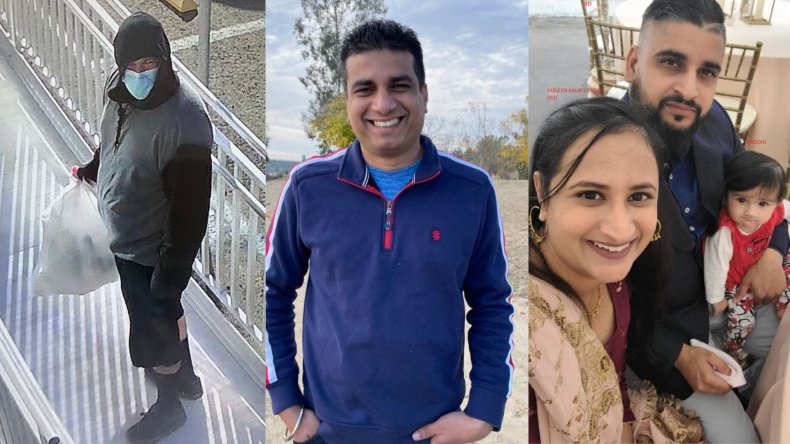 What Do We Know of Salgado?
According to the California Department of Corrections and Rehabilitation, the 48-year-old man was previously known to law enforcement, having already been convicted of first-degree robbery with the use of a firearm, attempted false imprisonment, an attempt to prevent or dissuade a victim or witness and possession of a controlled substance in Merced County.
He was sentenced to 11 years in state prison in that case, and was released in 2015. In 2018, he was discharged from parole.
Merced County police didn't indicate whether Salgado had previously known the kidnapped family, and his possible motivation for the crime is still unknown, though detectives believe it was financial.
Newsweek contacted the Merced County's Sheriff Office for more information.
What Happened to the Family?
On Monday, Merced County Sheriff's Office said that an entire family of four—eight-month-old Aroohi Dheri, 27-year-old mother Jasleen Kaur, 36-year-old father Jasdeep Singh, and 39-year-old uncle Amandeep Singh—had been kidnapped in the South Merced Area of the county.
Police later revealed that they were first alerted over the missing family after CAL FIRE Madera-Mariposa-Merced was dispatched to Buhach Road and Oakdale Road in Winton for a report of a vehicle on fire. The vehicle, a black 2020 Dodge Ram truck, was then identified as belonging to Amandeep Singh.
Officers were unable to find Amandeep Singh, but contacted family members, who also couldn't reach them. Detectives then concluded that the family had been kidnapped at gunpoint.
On the same day, police were able to identify a suspect, whom they described as "a light-complected male with a shaved head" last seen wearing a hoodie, who was captured on surveillance camera footage.
Early on Tuesday, detectives got a tip that one of the kidnapped family member's cards had been used at an ATM in Atwater. They were later able to identify Salgado as a person of interest in the case and shared an image of a man on Facebook, who later turned out not to be the suspect.
"We are are working with the bank to obtain the correct photo," officials said.
Early on Wednesday, the sheriff's office released surveillance video of the kidnapping, showing a suspect holding a firearm—believed to be Salgado—walking outside of a business with Jasdeep Singh and Amandeep Singh. The two can be seen with their hands zip-tied around their back before being placed into the suspect's truck.
The truck, which had driven off, returned to the same place of business six minutes later and picked up Jasleen Kaur and the baby.
In the evening of the same day, during a press conference, Merced County's sheriff, Vernon Warnke, said the family had been found dead in a remote, rural area of the county near Indiana and Hutchinson roads.
"Our worst fears have been confirmed," he said. "We found the four people from the kidnapping and they are in fact deceased."
Warnke called the incident "senseless" and said that "there is a special place in hell for this guy," talking of Salgado.
The sheriff didn't disclose many details on how the family was killed, but said that the four were found all "relatively close together." Talking to reporters, Warnke said Salgado's motivation isn't known yet, but referred to the murders as "horribly senseless."
Warnke said he was "livid inside" and detectives are trying to get answers as to why the four were killed. "Our focus is on conviction" now, he said.