The first trailer for Nintendo's highly anticipated The Super Mario Bros. Movie has arrived and the results are better than many people expected.
Video game movies can get a bad rap, and a lot of times for good reasons. When the first trailers for 2020's Sonic the Hedgehog dropped, many thought the title character was absolutely terrifying. Fans of the game united to push for an improvement in the design, and ultimately the final product opened the path for a sequel this April with a third installment planned for late 2024.
Mario has just as much history for video game fans, and seeing the first teasers and posters for The Super Mario Bros. Movie, many were worried about just how good it might be. Based on the first trailer, revealed on Thursday during a special Nintendo Direct presentation, the Mushroom Kingdom isn't shaping up to look that bad.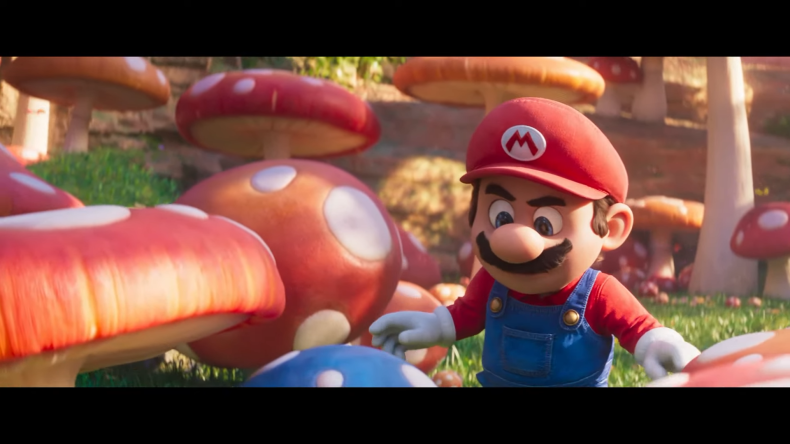 The movie—featuring Chris Pratt as Mario with additional voice acting from Anya Taylor-Joy, Jack Black, Keegan-Michael Key, Charlie Day, Seth Rogen and many others—will follow the plumber as he takes on Bowser (Black) in an attempt to save Princess Peach (Taylor-Joy) and the Mushroom Kingdom. Mario appears to be fairly new to the kingdom, confused by the sight of massive mushrooms and a new friend named Toad (Key).
The trailer gives viewers a great idea of what to expect from Black's fiery performance as the King of Koopas, but there may still be some issues with the animated film. For starters, the mystery of what happened to Mario's butt is still currently being investigated.
The characters and world look to be on par with what audiences have come to expect from a production involving the legendary Shigeru Miyamoto, the creator of Mario, Donkey Kong and many other iconic Nintendo characters.
The trailer also provides audiences with their first glimpse of Pratt voicing the character, which appears to be missing the Italian accent the character has been known for.
The Super Mario Bros. Movie has been in development for over seven years, Miyamoto said during the trailer reveal. However, it is not the first time the character has starred in in an animated film. Super Mario Bros.: The Great Mission to Rescue Princess Peach!, a 60-minute animated movie released in 1986, was one of the first films based on a video game ever to be released.
The Super Mario Bros. Movie is scheduled for release on April 7, 2023.